---
Powerful Partnerships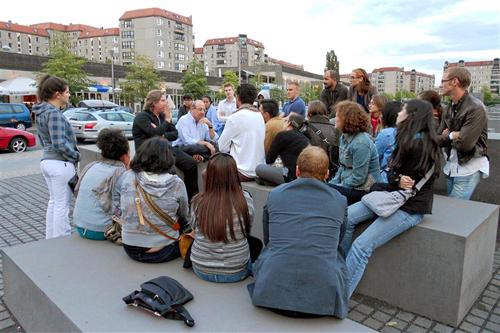 A World of Art to Explore
New World School of the Arts has been opening the world to students for years with travel opportunities whenever it gets the chance and financial backing to do so. Now, thanks to a new $500,000 grant from the John S. and James L. Knight Foundation, the conservatory can ensure that, prior to earning Bachelor of Fine Arts degrees, all visual arts students will benefit from the enriching experience of traveling abroad in their senior year.
In recent years, NWSA has made such travel possible through a synergy of efforts among its administrators, Professor Fredric Snitzer and prominent Miami collectors Carlos and Rosa de la Cruz. Their hard work has enabled students to enjoy timely and meaningful trips to such art and design meccas as Berlin, Venice, Barcelona and Cape Town.
Supporting NWSA's Mission
The new, major funding from the venerable Knight Foundation not only secures the promise of similar travel opportunities for future generations of students, but also stands as a firm vote of confidence for NWSA to continue its mission of providing global exposure to art.
"So many of Miami's best artists are born and raised here and often attend New World School of the Arts," said Dennis Scholl, vice president for arts at the Knight Foundation. "We want them to ultimately make South Florida their home, but it's important that they see the greater world of art beyond our borders, as these cultural field trips allow them to do."
Pivotal Journeys
Maggy Cuesta, NWSA's dean of visual arts, has escorted students on every trip and seen how pivotal they are for the budding artists.
"These trips abroad offer students the opportunity to immerse themselves in the cultures of other countries and experience first hand much of the art they have only learned through books," she said. "This enables them to expand their understanding that art does not have boundaries and does not discriminate. It is a global, ever-growing fusion of concepts and ideas."
— MR
More Powerful Partnerships Articles