---
Cultural Spotlight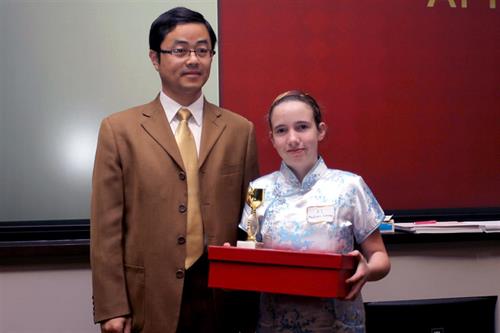 Prodigy Ready to Excel Around the Globe
Madison Conroy, a student at MDC's Confucius Institute, is only 12 years old, but she recently beat dozens of college and high school competitors to win first place in FIU's annual International Chinese Speech and Skit Competition.
"I'm really happy," said Madison. "I spent a lot of time with my professors preparing for this."
The Confucius Institute, which opened in 2010 at Wolfson Campus, is the first of its kind in South Florida – a center promoting Mandarin Chinese language, culture and business.
Aiming for a Trifecta
Madison's mother, Trisha Conroy, is a financial investor and savvy business expert who realized how advantageous it would be for her only child to speak Chinese and Spanish as well as English.
"I wanted her to be not only trilingual, but also tricultural," she explained.
To that end, MDC's Confucius Institute was the perfect solution.
"We have customized programs for students of all levels and ages," said Dr. Xuejun "Jim" Yu, director of MDC's Confucius Institute. "Instead of a level one, two or three, Madison jumped to a level four. She has shown tremendous interest, intellect and improvement, and I look forward to seeing what she can accomplish in the future."
The Perfect Coach
Madison, who has been to China three times, began learning Mandarin at age four. Her talent for the language was refined last year when she began going to MDC's Language Center, where Professor Wensheng "Kevin" Yang helped perfect her speech, tone and authentic delivery.
"It's half fun and half hard work," said Madison.
A high-achieving student at Key Biscayne K-8 Center, Madison has a bright future. Her plans include Key Biscayne's MAST Academy or another STEM-oriented high school, then a college degree focusing on math and science. Her goal is to become a marine biologist, and she knows she can use her language skills to work in exotic locales, such as China or Spain.
"I love the ocean and all of its animals and creatures," Madison said. "Some of them are going extinct, and I want to be able to protect them before that happens."
— WV
More Cultural Spotlight Articles