---
Features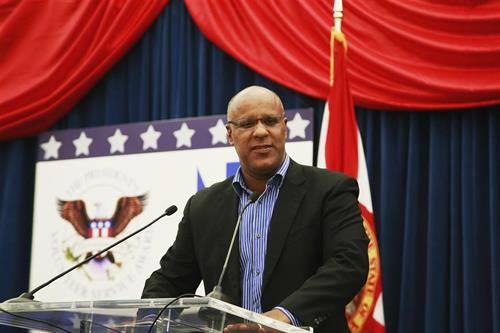 Earning the President's Award for Service
Miami Dade College is lauded throughout the nation for the exemplary role it plays in instilling in its students the importance of acting as global citizens through civic engagement and service to others. In acknowledging the outstanding work achieved in the past year, Miami Dade College recently honored 420 students and 27 student clubs and organizations at its seventh annual President's Volunteer Service Awards (PVSA) ceremony at Wolfson Campus in Downtown Miami.
The national PVSA awards recognize individuals, families and groups achieving high standards as measured by the number of hours served over a 12-month period or cumulative hours earned over the course of a lifetime.
"I am extremely proud of our students' dedication to service and taking an active role in making our community a better place," said Miami Dade College President Dr. Eduardo J. Padrón.
This year, eight MDC students received Lifetime Achievement Awards, which include a personalized certificate and letter from President Barack Obama, a lapel pin and a letter from the President's Council on Service and Civic Participation. Among the remaining 412 honorees, 223 students received bronze awards for volunteering 100-174 hours, 51 got silver awards for 175-249 hours, and an impressive 138 earned gold awards for 250 or more hours of service.
In addition, the 27 student clubs and organizations were recognized for their collective commitment to service, with each completing a minimum of 250 hours as a group.
The President's Council on Service and Civic Participation established the President's Volunteer Service Award program in 2003 as a way to thank and honor Americans who, by their demonstrated commitment and example, inspire others to engage in volunteer service.
If you would like to learn more about how to get involved, contact Joshua Young, director of the College's Institute of Civic Engagement and Democracy, at 305-237-7477.
— Staff Report
More Features Articles