---
Making Their Mark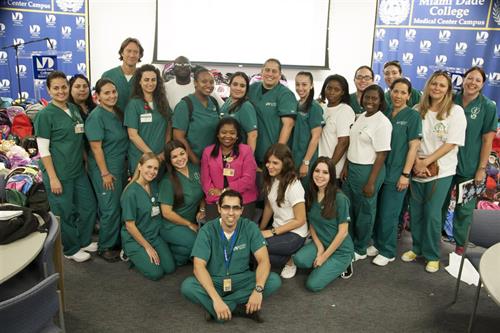 Exceptional Devotion to Those in Need
When a massive earthquake hit Haiti in 2010, MDC Nursing Professor Dr. Marie O. Etienne felt the tremors emotionally and spiritually even though she lives hundreds of miles away in Miami.
With the full support of MDC administrators, she joined 50 other nurses in a team organized by the Haitian American Nurses Association (HANA) of Florida, and they all rushed to their homeland to assist the estimated 3 million of their compatriots affected by the devastating quake.
This Oct. 23, Etienne will receive the Florence Nightingale Medal from the International Committee of the Red Cross at a ceremony in Washington, D.C. It is the highest international distinction bestowed on a nurse, but Etienne – a compassionate, humble person – can't help but think of the 220,000 people who died in the disaster.
Saving Lives
"We were a team of nurses and doctors working together," said Etienne, one of just five U.S.-based nurses honored with the 2013 award. "They asked me to take charge of two tents with more than 200 injured people. I just did what I had to do to save lives. My first thought [after winning the medal] was: 'Why me? Why am I getting a medal? What about the lives I did not save?' "
Because of the tragedy she witnessed, Etienne suffered symptoms of post-traumatic stress disorder. Yet she has returned to Haiti several times since the earthquake, going on medical missions that have included training nursing students in the region.
"I could not have done it without the strong support of everyone at MDC's Benjamín León School of Nursing," Etienne said. "Faculty, students and administrators held vigils, raised funds and sent supplies, and I'm grateful."
Etienne has won numerous awards in her career, but the Nightingale medal, awarded biannually, is perhaps the most prestigious. It recognizes courage and devotion to victims of armed conflict or natural disaster and honors exemplary service in public health or nursing education. This year's 32 medal recipients represent 16 nations.
Etienne, who did not speak a word of English when she arrived in Miami at age 14, became the first in her family to graduate from college and went on to earn a doctorate in nursing from the University of Miami.
Leading Students in Service to Others
An MDC professor since 1997, the married mother of two has dedicated her life to helping those in need. In 2005, she led a nursing mission to the Dominican Republic to care for Haitian migrants working in the sugarcane fields. The next year, MDC administrators supported her efforts to take students with her on a humanitarian program that has become an annual MDC mission in which nursing students pay their own way to help others and expand their medical experience.
This fall, Etienne hopes to take MDC students to Haiti for the first time.
"My goal is to engage our students and give them a rich cultural experience they would not normally get in a classroom," Etienne said. "Hopefully, with the help of Miami Dade College, we can create ambassadors of health, and it can have a ripple effect in society serving humanity."
— WV
More Making Their Mark Articles