---
Making Their Mark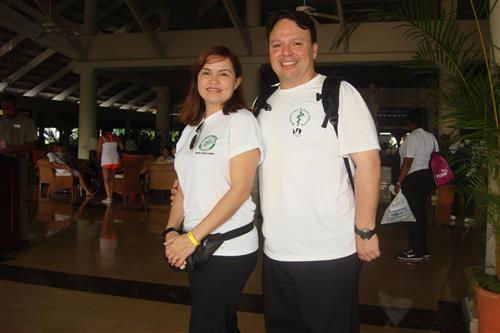 A Transformative Learning Experience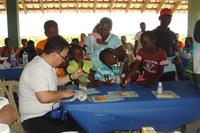 In just one week, Ender Estrada, left, and the MDC nursing team helped care for nearly 1,100 people who work in the sugar-cane plantations in the Dominican Republic.
The medical mission Carol Márquez and other MDC nursing students recently took to the Dominican Republic changed her life – in more ways than one.
Originally from Venezuela, Márquez, 40, and her husband, Ender Estrada, came to Miami Dade College to learn English. One day their English teacher – for some unknown reason – told them he had a vision of them in scrubs, working in the medical field.
Not long after that, they ended up in the program at MDC's Benjamín León School of Nursing, where they became registered nurses and now are working to complete bachelor's degrees in MDC's demanding nursing program.
Earlier this year, Márquez and Estrada were two of 15 students who joined MDC Professor Dr. Marie O. Etienne on a weeklong mission in the Dominican Republic. All the students paid their own way – about $1,000 each – to care for the medical needs of impoverished people working in sugarcane plantations. In that brief visit, the MDC group helped nearly 1,100 people.
Being able to assist so many people made it all worthwhile for Márquez.
"It was expensive to go, especially since we are a couple," she said. "But you have to make sacrifices in life, and it was so rewarding. The people there don't even have clean water to drink, so it was a good feeling to be able to help them."
Each day, the students got up at 6 a.m. and returned 12 hours later. While the work was grueling, the trip also turned out to be magical for Márquez and her husband. They not only learned to compassionately care for so many in need but also returned with a precious gift.
"I'm pregnant," Márquez said. "This mission truly was a blessing, both to the people we helped and for us."
— WV
More Making Their Mark Articles