---
Academics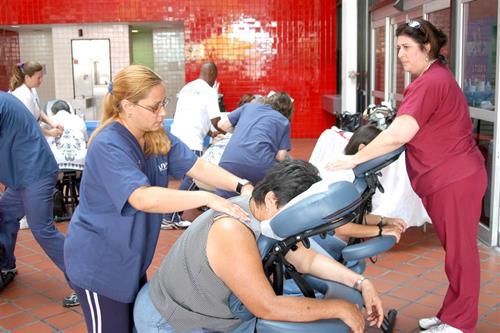 Helping Experienced Professionals Return to the Workforce
Starting this spring, Miami Dade College's Medical Campus will offer a much-anticipated Spanish version of its popular Massage Therapy Vocational Credit Certificate Program.
When the state Board of Massage approved that the licensing exam could be taken in Spanish, Miami Dade College seized the opportunity to more fully meet the needs of the community.
Licenses Required
"A large segment of our local population comes from Latin America," said David R. González, an instructor in MDC's massage therapy program. "Even though many of these experienced therapists have all the training they need in massage therapy, they can't work here because they don't know the language, and they also don't have a license."
The Spanish Curriculum Option will be a new full-time, twosemester program consisting of 25 vocational credits, or 750 hours. Classes will be available in the evenings and on weekends. This Spanish version of the successful MDC program will include the same competencies as the current one offered in English. Students will master the technical skills needed to work as supportive health care providers specializing in massage therapy.
Building Careers
"There is a great need for this program," González said. "We're giving options to people who couldn't have trained before or would have had to wait longer until they were proficient in English. Now they can develop their careers sooner.
"The job market is there. What we've done is open the door wider so that our graduates can develop as professionals and improve their lives."
— WV
More Academics Articles