---
Making Their Mark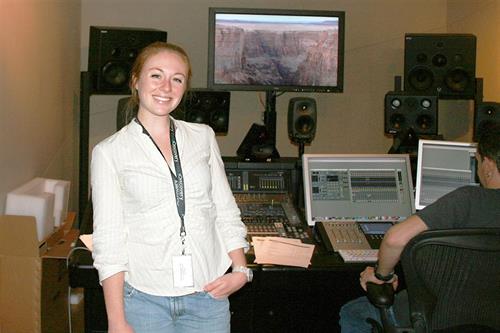 Discovering Success at Discovery Communications
When MDC student Quincy O'Bryan was chosen from among 14,000 applicants to intern at Discovery Communications, she was nervous she'd be in over her head. But that anxiety quickly dissolved the first day on set when she realized her courses at MDC's School of Entertainment & Design Technology (SEDT) had prepared her to handle all the state-of-the-art equipment and tasks she'd be in charge of during her exciting stint at the worldwide media company that produces programming for networks including Discovery Channel, The Learning Channel (TLC) and Animal Planet.
"I felt right at home on set," said O'Bryan, who is pursuing a bachelor's degree at MDC in Film, Television & Digital Production. "All of the projects I worked on during my internship were based on skills and knowledge I had already acquired and equipment I had already trained on in my classes at MDC."
While at Discovery, O'Bryan dove right into a variety of roles, from sound and photography to post-production work ranging from synchronizing music and sound effects to narration.
"I had the chance to work side by side with extremely talented editors and audio mixers as if I were getting private lessons," she said. 
Among many exciting projects, she was asked to help choose music and sound effects for the special six-part series Norteamerica (North America). O'Bryan also edited the narration in Spanish and Portuguese for the series Alien Encounters and assisted with creating effects for the Shark Week satellite feeds in Argentina, Mexico, Venezuela and Brazil.
"The internships for each of our degree programs give our students the opportunity to get their foot in the door and gain crucial real-world experience," said SEDT Director Barry Gordon. "The quality of our programs and the cailber of our faculty have helped us develop a level of prestige and important partnerships throughout the industry that open doors for our students."
Thanks to the reputation of MDC's School of Entertainment & Design Technology, students are able to take advantage of amazing internship opportunities, with placements at major networks and international production companies including:
Starz
Telemundo
MTV
Carnival Cruise Lines
Discovery Communications
Univision
NBC 6
Mega TV
Tiger Direct
SEDT also provides opportunities for students to work on major motion picture and television productions in South Florida. Some of the recent productions that the students have worked on include:
Iron Man 3
Magic City
Charlie's Angels
The Glades
Burn Notice
Graceland
— AMS
More Making Their Mark Articles