---
Making Their Mark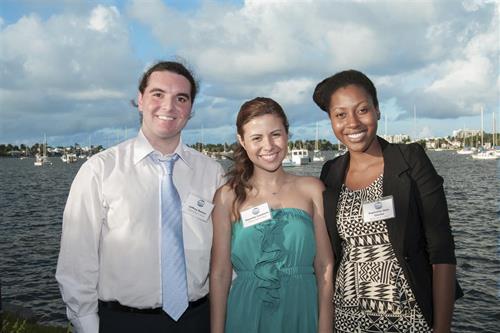 League of Cities Honors Three MDC Students
Jeffrey Romeu plans on attending Yale University and wants to eventually become governor of Florida, but he is no more ambitious than two other MDC students who have shared an important award with him.
Romeu, 21; Esperanta Jean-Charles, 20; and Daniella Candurra, 20, have each earned $1,000 scholarships and paid internships from the Miami-Dade County League of Cities.
Candurra aspires to work for the State Department or the United Nations. With an even more detailed plan, Jean-Charles has multiple goals, including becoming an attorney, living in Japan, working as a White House correspondent and serving as a congresswoman.
The three students – all set to graduate from MDC in the spring – were honored recently during a League meeting at the Miami Outboard Club on Watson Island.
Serving Others
Born in Cuba, Romeu was raised in Hialeah since he was a toddler. He attends MDC's Hialeah Campus, has a 3.8 GPA and is studying political science. He is president of Hialeah Campus' Student Government Association, president of Phi Theta Kappa and state secretary for the Florida College System SGA.
"I love public service," said Romeu, who already is helping others in his internship with Hialeah Mayor Carlos Hernández.
Aiming for D.C.
Candurra, a native Miamian, has a 3.9 GPA and is studying international relations at MDC's North Campus Honors College. In addition to this rigorous study schedule, she is a member of Phi Theta Kappa and a STEM Ambassador.
She plans on attending Georgetown University next fall but in the meantime is serving as an intern for the Town of Miami Lakes. Previously, she interned with both the Miami Council for International Visitors and the Miami Mayor's International Council.
"I've always wanted to live in Washington and work for the government," Candurra said.
Ready for Japan
Jean-Charles, also a native of Miami, has a 3.9 GPA and is studying political science at MDC's Wolfson Campus. She plans on either attending George Washington University or heading to Japan to study at Sophia University.
Jean-Charles is the former president of the Florida Public Service Association and has completed internships with the Aventura Police Department and a U.S. Congressional campaign. She now interns with the City of Miami Beach. 
Jean-Charles is so enamored with the idea of living in Japan that she has spent the past several months studying Japanese with a tutor.
Overwhelmed with her recent honor, Jean-Charles said earning the League of Cities award was "crazy." 
"I was ecstatic when I found out I get a great internship on top of this prestigious scholarship. It truly is an honor."
— WV
More Making Their Mark Articles