---
Academics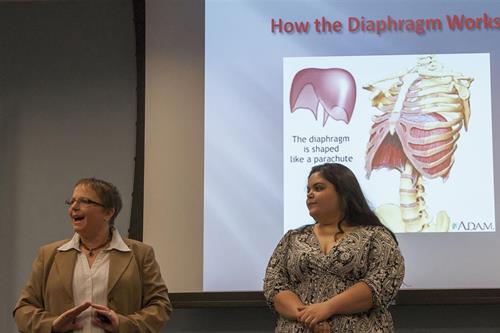 Branching Into all Fields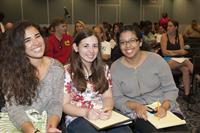 Learning insightful lessons about the science of singing at the STEMversations lecture were, from left, MDC Wolfson Campus vocal students Bianca Sirgany-Castro, Sarah Ser and Brianna Pérez.
While some people may think of the sciences and the arts as opposing disciplines, they often are closely connected. Sculptors use math and physics to create inspiring works incorporating scale and counterbalance. Painters rely on the basics of chemistry, and dancers master kinesiology. Yet we rarely consider these interesting ties.
To help us see the links between liberal arts studies and the STEM fields of science, technology, engineering and mathematics, MDC's School of Science recently launched its STEMversations speaker series with an intriguing lecture on "The Biomechanics of the Human Voice," by Dr. Julie Maykowski, director of artistic administration for the Florida Grand Opera.
The Beauty of Bernoulli
Maykowski discussed the biological and physical principles governing how humans communicate through speech and song. Betsy Díaz, a Young Artist at the Florida Grand Opera, brought Maykowski's theories to life.
"Opera combines athleticism and music in a way that has always made sense to me," Maykowski said after the presentation. "So I really enjoy sharing this knowledge with others."
She captivated the audience with her vivid description of complex science concepts, including Bernoulli's Principle, in which she compared the flow of breath through the vocal chords to how fuel moves through a carburetor and the way that wings on a plane produce lift.
"As a double major in music and math, I was inspired by the connection between STEM and the art of singing," said MDC Wolfson Campus vocal major Sarah Ser.
Diverse Discourse
Following Maykowski's inaugural lecture, in January Dr. Stephen Sass from Cornell University discussed "The Substance of Civilization: Materials and Human History from the Stone Age to the Age of Silicon," which focused on showing the historical and human perspective of technological advances.
"STEMversations present an enriching opportunity for students and the community to engage with experts and learn first-hand about a wide variety of relevant issues that take us beyond the traditional STEM experience," said Malou C. Harrison, president of MDC's North Campus.
Upcoming STEMversations this spring will include MDC North Campus Math Chair Dr. Vincent Bates discussing "Coping with Math Anxiety and its Relation to Student Success" and Nova Southeastern University Professor Dr. Jaime Tartar presenting "Stress on the Brain: The Good, the Bad and the Misunderstood," which will explore the physiological consequences of stress and sleep loss.
— BK
More Academics Articles