---
Making Their Mark
Give Him a Hoot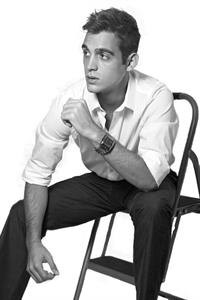 Student entrepreneur Andrew González
As a small-business owner, MDC student Andrew González, 22, is fast becoming a cookie monster.
González's business, Night Owl Cookie Co., delivers tasty treats to his customers' homes and caters mostly to Miami's sizable party crowd, which tends to get the munchies after an evening of club-hopping.
Enterprise Takes Flight
After selling several hundred cookies a week, González decided recently to quit what had been his full-time job as a graphic designer.
"It's been crazy," González said. "I've been getting no sleep."
The idea for the business came to González while taking a business class at Miami Dade College. His project finished in second place in a national Small Business Management competition sponsored by the Future Business Leaders of America-Phi Beta Lambda (PBL).
His idea was so good, in fact, that he created the business and recently hired two employees – one to bake, the other to deliver.
Pathway to Success
Eager to expand his business acumen, González currently is studying at MDC's Kendall Campus in pursuit a Bachelor of Applied Science in Supervision and Management. He completed an MDC associate degree last spring with coursework focused on business administration.
He credits MDC accounting professor María Mari, who also served as his PBL sponsor, with inspiring his entrepreneurial spirit.
"Without the support of Professor Mari and the dedicated professors at MDC, I would never have been able to achieve my goals and discover my true passion for entrepreneurship," González said.
To learn more about the sumptuous treats now being offered by González's company, see
— WV
More Making Their Mark Articles