---
Making Their Mark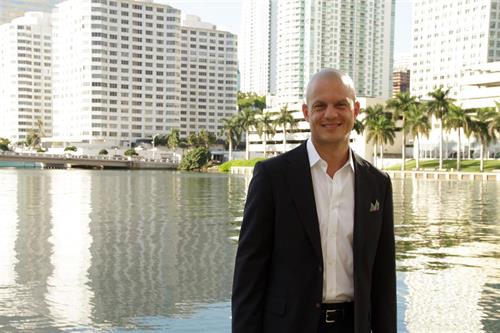 The Perfect Alliance
Gabriel Decaran-Voigt has logged a lot of miles since he graduated from MDC – 2.6 million, to be exact. He accumulated all that frequent-flyer mileage in trips to England, Brazil, Argentina, Chile, Venezuela, Costa Rica, El Salvador and the Dominican Republic when he helped spearhead a Miami-based law firm's strategic expansion abroad.
Today, Decaran-Voigt has traded his suitcase for a corner office, working now as director of Corporate Alliances for the Executive MBA Health Sector Program at the University of Miami. But whether traveling around the globe or leading executives down the road to career success, he has never forgotten the transformative learning experience he had at MDC.
Zeroing In on the Solution
"When I began at MDC, I was struggling with my English," said Decaran-Voigt, who was born in Venezuela and raised in the Dominican Republic. "My chemistry professor once gave me a zero on a test because I answered the questions in Spanish. After class, the same professor walked me to the language lab, and that was the turning point for me. My education and new life in Miami began that day. The personal tutoring I received helped me pass the chemistry class and positioned me for success in the United States."
Decaran-Voigt's career path into international business and academia was at times slow and arduous. Like so many others who have worked hard for their success, he paid his dues. In fact, it took him nearly a decade to finish the associate degree at MDC while also working, but he was determined to earn a diploma.
While his career began with a job in the law firm's mailroom, his commitment to ongoing learning enabled him to climb the corporate ladder all the way to director of International Operations and Strategic Development. The disciplined approach that helped him thrive in the business world was further developed through rigorous triathlon training.
Prepared to Excel
"The traveling was a hands-on global internship experience, but I owe the didactic preparation to Miami Dade College," Decaran-Voigt said. "The College provided me with a flexible academic platform, and my MDC professors prepared me to achieve professional success."
Now at the University of Miami, Decaran-Voigt helps others achieve their dreams of successful business careers. As a mentor, he reminds them of the lessons he learned at MDC — that education and determination definitely are the keys to success.
— WV
More Making Their Mark Articles