---
MDC News Bytes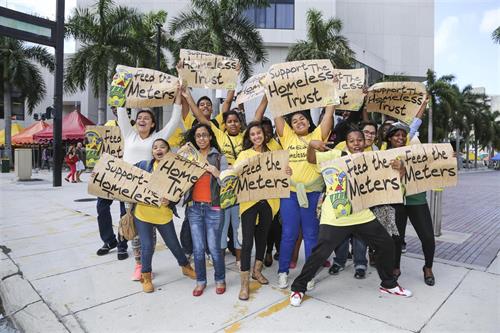 Helping the Homeless
On Nov. 14, hundreds of MDC students, faculty and staff took part in Homeless Awareness Day to shed light on the issues faced by those who are chronically homeless and to give thanks for the tireless work of those who strive to help them.
"Helping the chronic homeless find the off-ramp to living on the streets and the on-ramp to a safe and meaningful life benefits both the homeless as well as our community by ensuring the safety and well-being of everyone," said MDC Provost Dr. Rolando Montoya, who also has chaired the Downtown Development Authority's Homeless Task Force.
Collegewide activities began in the early morning when MDC partnered with the Miami-Dade County Homeless Trust to host a business event at the College's Wolfson Campus in honor of the outreach workers who are the unsung heroes of the homeless. Recognized as this year's "Change Agents" were Betty Chapman, widow of former Knight-Ridder publisher and community leader Alvah Chapman, along with several former legislators who sponsored the Food and Beverage Tax legislation that funds programs to help those affected by homelessness and domestic violence in Miami Dade County. James Jones of the Miami Heat closed the morning's meeting with an inspiring keynote presentation on his experience with homeless and at-risk youth.
— Staff Report
More MDC News Bytes Articles