---
Academics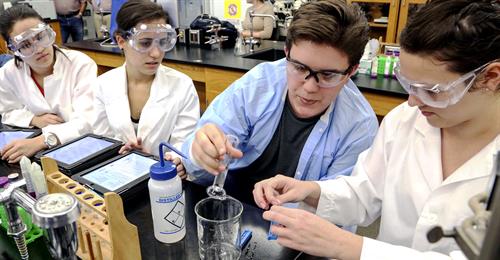 Learning STEM in Real Time
With support from a federal grant, MDC professors are going where few of their peers have gone before by incorporating iPads into laboratory experiments, thereby unlocking a treasure trove of potential for enhancing learning experiences for MDC students.
Already well-versed in the use of iPads in the classroom after implementing successful iPad-based learning communities in chemistry and biology with support from the federal STEM First-Year Experience (STEM FYE) grant, MDC Professor Juan Morata recently took the technology a step further: into the bio lab at Wolfson Campus, enabling students to track the results of experiments in real time and, in turn, make a more immediate connection between theory and application.
Timely Reactions
How does this all work? The students' classroom iPads are connected to the lab equipment through Vernier hardware that utilizes graphical analysis software to translate readings into charts as the experiment results unfold. The real-time charts appear both on the students' iPads at their workstations and on the professor's computer, which projects the charts for all to see at the head of the class.
"This is great because, as science majors, these students have to be comfortable with technology," said Morata. "Many of them will work in the medical field as doctors and nurses. This is the kind of technology they will find in the industry."
"I've never done anything like this before," said freshman Mileidy González, who is studying biology at Miami Dade College and plans to eventually become a surgeon. "I feel like we are pioneers. It's bringing education into the 21st century.
A New Path Forward
In addition to being used in other learning communities for physics and calculus, iPads are part of basic introductory courses for students pursuing STEM pathways and are also being introduced in labs in physics courses.
"Using the iPad eliminates all the error in calculations so students are getting more accurate data than in the hard, old-fashioned way," said Dr. Mark Kraus, chair of Wolfson Campus' Natural Science, Health and Wellness Department. "To most students, iPads are toys, but now they're learning that they're tools."
— MR
More Academics Articles