---
Academics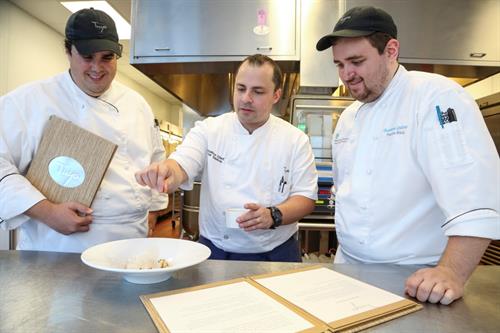 Turning Up the Heat
Students at MDC's acclaimed Miami Culinary Institute (MCI) are getting an up-close look at the culinary world thanks to an exciting new externship program that's helping them gain real-world experience at distinguished restaurants and hotels throughout Miami.
"It's a big step in our program for our students," said Collen Engle, Culinary Program chair. "They are being accepted really well out in the community, and it's building the reputation of MCI's program in a positive way."
From South Beach to Miracle Mile, students are stepping into the kitchens of revered restaurants and hotels to work and learn alongside respected chefs at places such as Haven on Lincoln Road, Oceanaire, Eden Roc and MDC's own Tuyo restaurant.
Custom-Designed Experiences
"We try to tailor it to the student and their future desires as far as careers," Engle said. "We even have students working at several locations within Baptist Health South Florida and Hershey Park in Pennsylvania. We're growing the program and starting to look at entities outside of the state of Florida and also across the globe. For example, two students attended a bread-baking school in Germany for three months, and we have another student heading to France."
Student Eric Serebrennik had the opportunity to work the line and do prep work at Taperia Raca, a new Spanish restaurant developed by up-and-coming Miami chef Giorgio Rapicavoli, who took first place on the Food Network's Chopped culinary competition.
"It was a humbling and inspiring experience that helped confirm my desire to own my own place some day," Serebrennik said.
Lessons From the Master
Jeff Pérez, who will graduate in December, has spent several stimulating weeks in the kitchen at Tuyo restaurant alongside its pastry chef and also Executive Chef Victor Santos, who has imparted lessons on menu planning, plating, culinary techniques and inventory, among other topics.
"For me, it's a great opportunity to have the students here," Santos said. "I enjoy preparing them for the next step in their careers and helping ensure they have the right foundation and skills for when they go into the field. It also has been a wonderful way to strengthen the relationship between MCI and Tuyo."
— AMS
More Academics Articles