---
Cultural Spotlight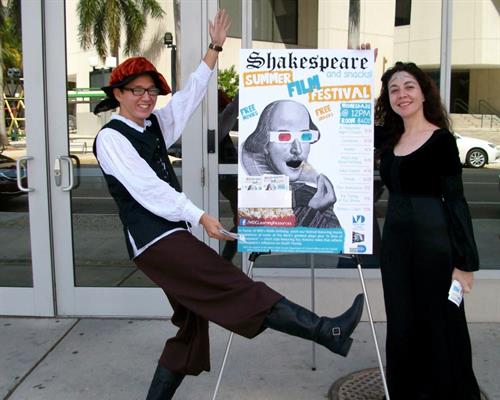 Much Ado About Shakespeare
The most celebrated works of the world's most famous bard are alive and well in South Florida thanks to Miami Dade College's Lynn and Louis Wolfson II Florida Moving Image Archives. Cinematic adaptations of William Shakespeare's greatest hits were shown to the public free of charge this summer in fun-filled programming during MDC's Shakespeare and Snacks Summer Film Festival.
"We invited everyone in the College community – and outside as well," said René Ramos, MDC's archives director. "In addition to students, faculty and staff, we reached out to people who work downtown and wanted inspiring entertainment in the middle of the day. They spent their lunch hour with us, and we had a very good turnout throughout the summer."
The festival was timed to coincide with the 450th anniversary of Shakespeare's birth. It featured nine of the renowned playwright's works, including Romeo and Juliet, Hamlet, Othello,
Julius Caesar, Titus Andronicus and Coriolanus in addition to the jovial comedies Much Ado About Nothing, The Taming of the Shrew and A Midsummer Night's Dream.
In addition to the films, the festival featured "A Shot of Shakespeare," with short clips focusing on lighthearted, historic video segments reflecting Shakespeare's influence on South Florida. 
Joining in the collaborative effort, Miami Dade College's Learning Resources Department provided films in the series and Wolfson Campus' Student Life Department provided the snacks.
— WV
More Cultural Spotlight Articles