---
Powerful Partnerships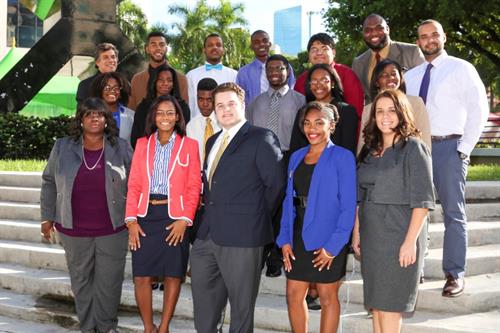 Year Up Gives Students Career Advantages
Year Up Miami celebrated the accomplishments of its inaugural class at MDC's North Campus and its third class overall since the program's inception in 2012. Furthering MDC's goal of ensuring graduates are job-ready upon graduation, Year Up Miami provides students with professional skills and work experience while they earn a college degree.
A total of 28 students, representing both North and Wolfson campuses, were recognized at a graduation ceremony held at North Campus' state-of-the-art Science Complex. The event featured keynote speaker Licenia Rojas, vice president of delivery transformation at American Express, who said she saw herself in the students and expressed her heartfelt pride in the way they developed over the course of their internships. JPMorgan Chase bank, which provided four internships this year and has already committed to offering 10 internships next year, received the Corporate Partner Award.
Double the Learning
Through its Professional Training Corps (PTC) Miami initiative, students attend college full time for one semester, enrolling in information technology courses and Year Up courses that focus on a variety of skills, such as business etiquette and networking. They participate in six-month professional internships that further their career readiness skills while they are receiving college credits toward an associate degree. Many students are offered full-time employment before completion of their internships.
"Year Up has truly been the best decision I have made so far," said Raheem Francois, a North Campus Year Up graduate who secured a permanent position with American Express. "In less than one year, I have gained invaluable experiences that have allowed me to grow both personally and professionally."
Noting the success of this year's group, North Campus President Malou C. Harrison and Wolfson Campus President Dr. José A. Vicente delivered opening and closing remarks at the graduation ceremony.
Ready for Employment
"The Year Up model is a perfect complement to MDC's mission, providing our students the opportunity to learn new skills while attaining expertise to make them competitive for today's job market," Harrison said.
Dr. Vicente said, "The program not only offers a perfect balance of education and training, but it responds to a critical need to develop a highly-skilled workforce."
Year Up Miami is open to low-income individuals ages 18 to 24 who have a high school diploma or GED. Its main mission is to close the opportunity gap in urban areas. The MDC Year Up partnership has received national media attention. To learn more, visit www.yearup.org.
More Powerful Partnerships Articles