---
Powerful Partnerships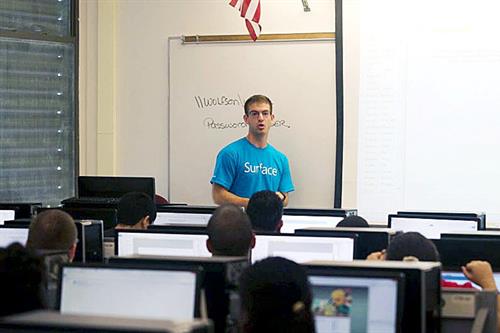 Tech Talents Shine at MDC Appathon
The Idea Center at Wolfson Campus was bursting with bright ideas during Miami Dade College's first-ever Mobile Appathon, organized by MDC's School of Engineering and Technology with the sponsorship of Microsoft and the South Florida Digital Alliance in addition to the support of Congresswoman Frederica Wilson.
More than 50 Miami Dade College and area high school students participated in the 24-hour event in which they received app development instruction during a workshop and were then tasked with creating an educational app for one of three major mobile platforms: iPhone, Android and Windows 8.
"The event was a huge success," said Professor Jack C. Lusby, program director for MDC's new Associate in Science in Mobile Application Development program. "We need experiential STEM events like hackathons and appathons that engage our students and show them that they can create an app within a small timeframe."
Contestants competed against peers in two divisions, one high school and one collegiate, producing 13 educational apps by the next day. Three MDC students, Kenneth Morgan, Isabel Heyninck and Kennedy Vrutaal, took first, second and third place respectively in the college division for their creations: Morgan's Healthy Leap app, Heyninck's Counting Farmer and Vrutaal's Appathon Quiz.
The School of Engineering and Technology is planning to make the Appathon an annual event, said Professor Toribio Matamoros,
who chairs the technology department. "The idea is to combine mobile workshops with these competitions in order to give those who are interested in mobile development a chance to see how it is done firsthand," he said.
— MR
More Powerful Partnerships Articles