---
Powerful Partnerships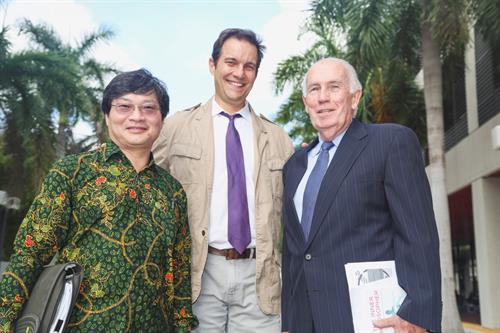 A Vibrant Intellectual Exchange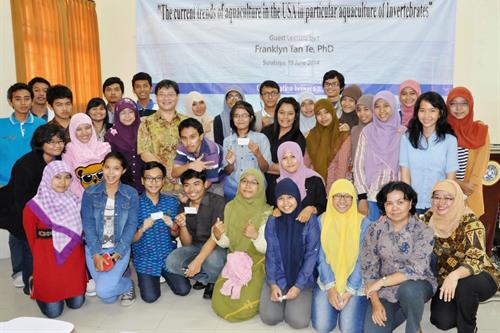 Students in Indonesia attended a lecture by MDC Professor Dr. Franklyn Tan Te.
With global attention turning to Asia and the Pacific Rim, many eyes are on Indonesia, the third-largest democracy in the world, and a diverse nation that also has the world's largest Muslim population.
MDC is taking a leading role in increasing understanding by engaging in multi-disciplinary research, best teaching and civic engagement practices and faculty/student exchanges with their higher education counterparts in Indonesia.
The United States-Indonesian Partnership Program (USIPP), administered by the Institute for International Education (IIE), seeks to promote vibrant exchange between the two countries. The program facilitates faculty collaboration on timely projects among six Indonesian and six American institutions of higher education. It also promotes student exchanges to bring the nations together.
Nations Unite at MDC
"Collaboration is the key, and Miami Dade College is a natural participant since it is a veritable United Nations of students," said MDC Biology Professor Dr. Franklyn Tan Te, who is one of the USIPP faculty participants.
A recent conference focused on biodiversity; energy and the environment; eco-art; food, water and health; natural disaster mitigation; and cross-cultural issues involving religious pluralism and democracy.
Focusing Forward
"We see the conference as a way of establishing the faculty as transformation agents for the future," said MDC Professor Dr. Michael J. Lenaghan, a Mardee Jenrette Endowed Teaching Chair at the College. "We have an ambitious agenda planned for consultation and action."
Looking at the intersection of art and understanding, MDC Architecture Professor Dr. Lyle D. Culver is involved in an extensive eco-art project. It will include an artist/faculty exchange and an artist mentorship program for Indonesian and American students that will lead to exhibitions of their work.
"Our own nation's motto – "e pluribus unum" or "from the many, one" – is actually similar to Indonesia's, and applicable as we work to use our differences to create stronger unions," Culver said.
More Powerful Partnerships Articles