---
Features
Community Pays Tribute to Former MDC President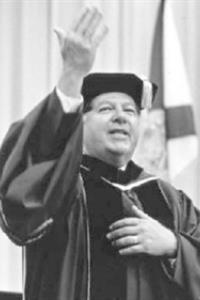 Dr. Robert McCabe
Hundreds of community leaders, colleagues and family members recently gathered at Miami Dade College to pay tribute to MDC President Emeritus Dr. Robert H. McCabe during a celebration of life at Wolfson Campus' McCabe Hall.
McCabe served as MDC's president for 16 years, retiring in 1995. Many of the speakers, including former Florida Sen. and Gov. Bob Graham, lauded McCabe's kindness, passion for helping students succeed and dedication to ensuring the underserved had access to quality higher education.
He is considered a pioneer in remedial education innovation, faculty promotion and recognition programs. During his tenure, Miami Dade College received national praise for its excellence.
More Features Articles