---
Features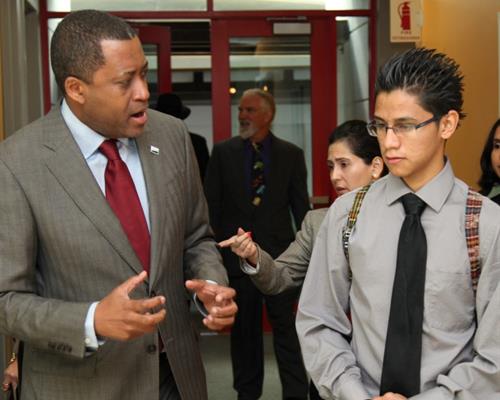 Homestead Campus Offers Insight Into USDA
A traditionally agricultural region like Homestead was the perfect setting for a recent presentation by Dr. Joe Leonard Jr., Assistant Secretary for Civil Rights for the United States Department of Agriculture (USDA).
Leonard, who has held his position longer than anyone in the USDA's history, spoke to hundreds of students at Homestead Campus about current civil rights issues and the formative experiences that helped shape his path to success. 
Overcoming Challenges
"It was inspiring for our students to have a presidential appointee answer their questions," said Dr. John Barimo, who chairs Homestead Campus' math and science department. "Our students were able to learn how a very successful individual overcame personal challenges and struggles to attain his goals."
Following the presentation, students had the opportunity to participate in an internship fair hosted by Vladimir Díaz, regional director for Florida and Puerto Rico with the USDA Hispanic-Serving Institutions National Program. 
Pointers on Applying
The interactive information session was designed to answer students' questions about the USDA internship application process and help students with questions about eligibility
"We hope that students become aware of the wide array of opportunities at the USDA," Barimo said. "Students realize that they can gain much more from their undergraduate experience by participating in a program that provides academic enrichment and real-world work experience."
— NN
More Features Articles