---
Making Their Mark
Banker's Diligence in College Studies Paid Off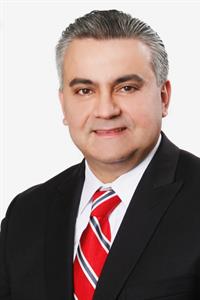 Elsio Suengas
Elsio Suengas, now the business banker senior vice president at Citibank, was just 13 years old when he left his native homeland of Cuba as part of the Mariel Boatlift of 1980.
Suengas, who made the voyage with his parents and brother, initially settled in Maryland, where he had an uncle. But the family moved to South Florida within three years and Suengas eventually enrolled at Miami Dade College, where he took a total of four city buses per day to get to and from
Kendall Campus.
"What really made it possible for me to attend college was the Pell Grant," said Suengas, 48. "Without that financial aid, I wouldn't have been able to go to college."
Suengas said learning a new language in his teenage years and adjusting from Cuba to Maryland to Miami made school difficult at first. But he credits MDC with guiding him through the process.
"My skills weren't up to college level when I first arrived at Miami Dade College," Suengas said. "I had to take a bunch of courses just to get up to speed. I probably took twice as many credits as most other students did. But the extra work paid off."
Suengas had planned to become a doctor and was inspired by Miami Dade College Chemistry Professor Ana Ciereszko. But after getting a bachelor's degree in psychology, he ventured into the world of business.
Starting out as an entry-level teller at Great Western Bank, he quickly rose through the ranks. He became a business banker at Barnett Bank in 1993 and then soon rose to vice president at NationsBank in 1996 and later senior vice president at BankUnited in 1999.
Since 2001, he has been a top business banker at Citibank. In 2014, he ranked No. 1 in production in terms of all Citibank bankers throughout the country.
More Making Their Mark Articles