---
Making Their Mark
Scholarship Polished a Diamond in the Rough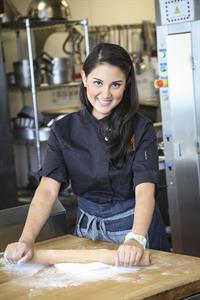 Maria Orantes
During her junior year at Miami's John A. Ferguson Senior High School, María Orantes and her unique gifts were discovered by Miami Dade College.
"I had entered a cooking competition being judged by staff of the Miami Culinary Institute at MDC," Orantes said. "My group won, and afterward the director chose me to receive a scholarship."
Orantes, who is just 23, has lived up to MCI's faith in her, quickly working her way up first to pastry chef and then to chef de cuisine at Pubbelly Restaurant in South Beach. She credits her mentors at MCI with helping her excel in her now rapid but originally roundabout route to success.
On Their Own
Born in El Salvador, she arrived in Miami at age 9 after her family relocated here. A few years later, when she was 17, her parents headed to China for work. To help the family make ends meet financially and to not disrupt her studies, Orantes and her older sister stayed in Florida and took on jobs of their own.
Working while studying meant that Orantes often slept fewer than four hours a night as she balanced MCI classes with an internship at Michy's and a job at Sra. Martínez, both restaurants owned by award-winning Chef Michelle Bernstein. 
Under Watchful Eyes
The first day Orantes arrived at Michy's, the restaurant host looked at her – she was only 18, had no knives, no chef's coat and no experience in a professional kitchen – and he said, "We'll see how long this lasts."
To his surprise, she caught on right away, never missing a beat.
Cooking has always been a stress reliever for Orantes, so when her demanding bosses allowed her to make a red velvet cake less than a year after she had started the job, she was ecstatic. Even better, she was recently promoted to the position of chef de cuisine at Pubbelly.
"To be able to execute your own plate and put it on the menu – Wow! I completely fell in love with the job," Orantes said.
— WV
More Making Their Mark Articles