---
Making Their Mark
She Landed Her Dream Job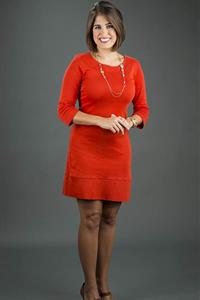 Alumna Alex De Armas is an on-air television reporter at WSVN Channel 7.
Miami Dade College Honors College graduate Alex De Armas credits MDC for giving her a great foundation in journalism.
De Armas recently began what she calls her "dream job" as an on-air television reporter at WSVN Channel 7.
Completing her coursework at North Campus, she graduated from MDC in 2011.
"Miami Dade College is a well-known community gem," said De Armas, 24, who is a morning reporter from 5 a.m. to noon for Channel 7.
"Why wouldn't you want to go to MDC? You get a great education, unlimited opportunities, all while enjoying beautiful Miami."
Early Start
A native of Miami, De Armas discovered she wanted to become a television journalist when she began reading the morning announcements as a high school sophomore at Our Lady of Lourdes Academy.
"That's when I found my passion," she said.
Before starting her career, she interned at Univisión, WTVJ and WFOR. Her work for these news organizations was behind the scenes, logging in tapes, among other duties.
It wasn't until she got to Miami Dade College that she actually began working as a journalist. In her sophomore year, she served as the North Campus bureau chief for MDC's award-winning newspaper, The Reporter.
After getting an associate degree with a pathway to a degree in journalism and mass communication at MDC, she completed her education at the University of Florida.
She worked at TV stations in both Gainesville and Fort Myers, which led to her landing the job at Channel 7.
Happy Homecoming
"I'm coming home to so many open arms, and I've gotten so much support. It's overwhelming, in the best way possible," said De Armas.
De Armas said she applies journalistic lessons she learned at MDC.
"I was given so many great opportunities at Miami Dade College," said De Armas. "I'm constantly telling high school students that they should start their education at MDC."
Aside from all that she learned in college, De Armas seemingly has been training for her current job for two decades.
"I was that girl who would narrate our family vacations to Disney by talking into our video camera," she said. "Basically, I've been doing live shots since age 4."
More Making Their Mark Articles