---
Powerful Partnerships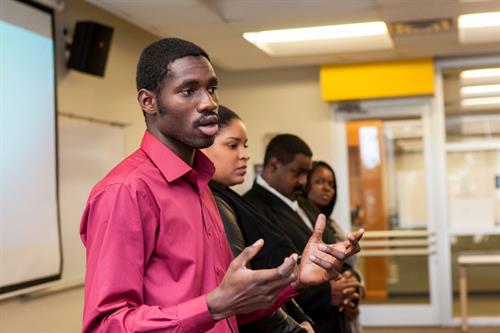 Fullbridge Fully Trains Students for Job Market
In a highly competitive job market, having the business skills that companies seek but that aren't always covered in academic curricula can make the difference between landing a sought-after position or being forced to log into Monster.com one more time.
To give students an edge, Miami Dade College has teamed up with Fullbridge Program, an organization specializing in providing the training to bridge the gap between college and the real-world experience that businesses regularly require of candidates.
"In addition to the business expertise, what we were looking for was a program that would hone some of the soft skills – written and verbal communication, presentation skills, the ability to work in teams – that employers are looking for," said Dr. Jorge Guerra, executive director of MDC's Workforce Education and Partnerships, which helped organize the MDC/Fullbridge partnership.
Diverse Curriculum
The first cohort at Miami Dade College recently completed the intensive two-week Fullbridge training, which covers a range of practical business requirements, such as financial literacy, balance sheets, cash flow and the computer software used to track financial data. Students left the program armed with the knowledge that will empower them to succeed in the most demanding and desirable jobs.
Stravensky Aly, who is studying mechanical engineering and will be graduating with an associate degree in May, found that participating in MDC's first Fullbridge cohort improved his career options on several levels.
"In mechanical engineering, you are building, and in the Fullbridge program, we learned how to do the kind of analysis that ensures you can obtain the best materials at the lowest cost," Aly said. "But it applies more broadly, too; there is a business component to any field you go into, and what we learned can be applied to that."
Impressing Employers
The students made closing presentations as part of the program, and local business luminaries who attended the event were wowed by what they saw.
"The students did great," Guerra said. "The executives were really impressed, and we are hoping to do another cohort in the summer."
To learn more about the program, see the video at tinyurl.com/MDCFullbridge.
More Powerful Partnerships Articles