---
Powerful Partnerships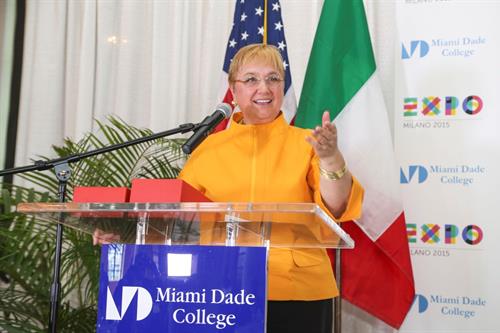 A Sneak Peek at the World's Fair
With its acclaimed Tuyo restaurant and renowned Miami Culinary Institute, it came as no surprise when Miami Dade College was chosen as the official U.S. pre-launch site of Expo Milano 2015. For the festive occasion, MDC's Wolfson Campus held the forum "Feeding the Planet: Energy for Life."
The historic event kicked off with "Understanding the Relationship Between Food & Health," a panel discussion opened with remarks by Gianni Fava, Italy's agriculture minister for the region of Lombardy, and moderated by syndicated journalist and TV and radio personality Linda Gassenheimer. Top medical and nutrition experts from the U.S. and Italy explained the science behind the Mediterranean diet to an audience of international and local dignitaries, MDC students and community members. An afternoon panel later convened to discuss the importance of nutritional training in medical schools.
During a luncheon at MDC's Freedom Tower, Expo Milano 2015 leadership bestowed the prestigious Food for Life Award upon celebrity chef Lidia Bastianich, who also received a key to the City of Miami from Mayor Tomás Regalado.
MDC's hosting of the event was supported in part by an educational grant from the National Italian American Foundation (NIAF).
For a video about the event at MDC, see tinyurl.com/FeedPlanet.
— NN
More Powerful Partnerships Articles