---
Powerful Partnerships
MDC's Social Entrepreneurs Shine at Clinton Global Initiative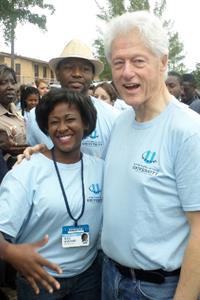 MDC student Alicia Desravines got to visit with President Bill Clinton.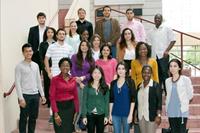 MDC sent an impressive 28 students to the Clinton Global Initiative University, many of whom met before the event to polish their plans.
When former U.S. President Bill Clinton and daughter Chelsea presided over the plenary opening session of this year's Clinton Global Initiative University (CGI U), there was a sea of MDC students in the audience. At the event this spring in Coral Gables, MDC led the way with 28 students constituting one of the biggest cohorts sent by any college in the nation.
Now in its eighth year, CGI U brings together more than a thousand students from across the country who share a drive for improving the world through service projects. The students' proposals, called Commitments to Action, must be both viable and have a demonstrable impact on a humanitarian problem that addresses one of CGI U's five focus areas: Education, Peace and Human Rights, Environment and Climate Change, Poverty Alleviation and Public Health.
"Our students are passionate about helping others," said Joshua Young, director of MDC's Institute for Civic Engagement and Democracy and the MDC coordinator for CGI U. "They are budding social entrepreneurs, and I could not be more proud of them."
Now in its second year as an official member of CGI U, Miami Dade College had almost 100 applicants, with more than a quarter of them being admitted into the program.
"The remarkable number of students accepted is a demonstration of the talent and dedication we have here at MDC," Young said.
The proposals of this year's MDC group ranged from Jonathan Wynn-Stracahn's plan to bring arts education back into some Miami classrooms through his 60 Minutes of Art to Mary Murray's NapSak for the Homeless, a sleeping bag-like enclosure that can be transformed into a waterproof backpack.
A Nascent Idea Grows
Outstanding among the MDC CGI U students is Ayomidamope Adejola, a one-woman dynamo who originally hails from Nigeria. A nursing student at Homestead Campus, she aims through her project to provide neonatal incubators in her homeland, where there is a shortage. Nigeria has the third-highest rate of neonatal deaths, and Adejola has a personal inspiration for the project.
"I was born prematurely as one of triplets, and I lost my two brothers born with me," she said.
Temperature regulation could save many premature babies, and Adejola hit upon a novel approach. Noticing how many people turn in perfectly good smartphones for flashier models, she figured hospitals might do the same with incubators.
"So I just asked," she said. "Already we have received two infant warmers at no cost donated by a local health organization. If we can't get more donations, we have fundraising options, but I couldn't wait. Maybe one baby can be saved today and go home with mom tomorrow."
Adejola plans to partner with area hospitals to expand the program.
Creating STEM Role Models for Girls
For her Commitment to Action, Claudia Gourdet has taken on an ambitious initiative that could have a lasting effect on the lives of young women in her native Haiti: providing STEM education for girls. She came to Miami at  age 9, and in high school took advantage of an Upward Bound Impact program, where she became passionate about math and science.
Studying computer science, Gourdet has already started one nonprofit while in high school, called Project Next Step. Her new nonprofit, STEM Access for Girls in Haiti, will work with young students there to empower them through STEM education.
"This is about ways to improve their lives and the community," Gourdet said. "There is no STEM education like this in Haiti, and the girls there don't have strong women as role models  like we do here."
Gourdet wants to partner with MIT to obtain teaching materials and have them translated, and she already is working on funding proposals.
"I want these young women to be able to step out of the constraints of their culture."
New Friends Motivate One Another
In addition to receiving positive feedback on how to complete their commitments, the MDC students got to meet like-minded peers from around the nation.
"I now have dozens of new friends to help keep me energized about my commitment," said Alicia Desravines, whose project Spreading the Light for Academic Excellence will bring solar-powered lighting to a remote school in Haiti where children don't have the resources they need to study at night. "And while they motivate me, I hope to be an inspiration for them, too."
More Powerful Partnerships Articles