---
Cultural Spotlight
Taking Miami on a Joy Ride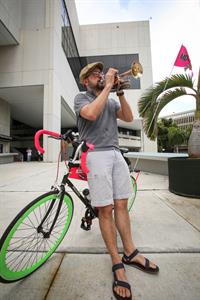 Jazz impresario Taylor Ho Bynum stopped at Wolfson Campus to give MDC students an impromptu performance.
Performance art often puzzles the uninitiated. To help novices bridge the gap, MDC Live Arts regularly finds unique ways for its guest performers to interact with students and the broader South Florida community.
Among its many programs this spring, MDC Live Arts brought noted jazz impresario Taylor Ho Bynum to MDC classrooms for workshops and to outdoor venues for impromptu performances as part of his wide-ranging Acoustic Bicycle Tour.
The cornetist impressed as he educated, bringing harmony to areas where urban cacophony reigned.
"I'm used to living in a bigger city," said Armen Thakmazov, who saw Bynum perform at North Campus. "I'm used to people playing music on the street. Miami needs that. This made the city feel alive."
Another student less familiar with improvisational art quickly came to appreciate it.
"At first I didn't quite get it, then I caught on and I actually liked it a lot," said Martha Purdy, who participated in Bynum's Emerge Miami Bike Ride that biked through Little Havana to MDC's Koubek Center to enjoy a free performance. "With cycling, you never know what's going to happen. That's what the music reminded me of as well."
Something for Everyone
Bynum has built a career working with both seasoned pros and mystified newbies.
"Experimental music is a dirty word, so I talk about what I am doing in human terms," he said.
Before arriving in Miami, Bynum most recently had biked over 2,000 miles down the Pacific coast from Vancouver to Tijuana, giving impromptu and not-so-impromptu performances along the way. Some were as simple as solo musical meditations in remote landscapes responding to ambient sounds like ocean waves, which were shared later on video. Other performances took place in fractious, noisy downtown settings.
During an outdoor performance at Wolfson Campus, Bynum veered into "Twinkle, Twinkle Little Star" when a young child approached, then played counterpoint to repellent beeps blaring from a fork lift, and later syncopated his notes to the hammering from a nearby sculpture renovation.
"Great to play with a percussion section," he joyfully quipped as he neatly morphed a potential distraction into an opportunity.
Later reflecting on the incident, he said, "At the deepest point of performance, you have to be completely aware, responding to the music surrounding you. This is what improvisation opens you up to, really hearing the sounds of a space. You can't be on autopilot. That is what art is about for me, a powerful and beautiful engagement with another human being."
And engage, he did.
"Throughout his week-long residency at MDC, he never touched a car, yet he managed to visit five campuses spanning from Kendall to Hialeah," said Kathryn Garcia, executive director of MDC Live Arts, which sponsored and organized Bynum's visit. "In addition to giving impromptu performances at each campus, he taught workshops for music and theater students. He has a wonderful message centered on awareness, creativity and how you interact with your environment."
Depth and Breadth
Bynum's itinerary also included playing with his 7-tette group at WDNA, a live-streamed concert at Subtropic's Audioteque on Lincoln Road, the Emerge Miami bike ride and concert at Koubek Center and teaming with a group of Peddling Poets during O Miami, which featured MDC professors Geoffrey Philp and Michael Hettich.
"It's nice to know MDC will bring something as interesting and different as this," said David García, a mechanical engineering student at North Campus. "Things like this are inspiring."
For his part, Bynum enjoyed the residency and hopes to return. "This project isn't about a destination, it's about an experience."
More Cultural Spotlight Articles