---
Features
Tearing Down the Wall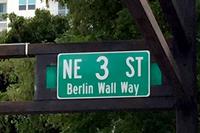 Northeast Third Street in Downtown Miami is now also known as Berlin Wall Way.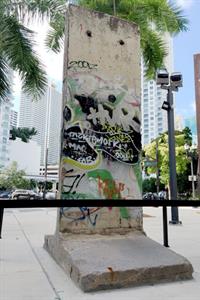 At Wolfson Campus, a section of Berlin Wall serves as a permanent reminder of the end of the Cold War.
To much fanfare, Miami Mayor Tomás Regalado and the Consul General of Germany Jurgen T. Borsch recently joined Miami Dade College President Dr. Eduardo J. Padrón at MDC's Wolfson Campus to rename Northeast Third Street as Berlin Wall Way.
Last year, which marked the 25th anniversary of the tearing down of the Berlin Wall, the City of Miami received an authentic 12-foot tall, 3-foot wide, four-and-a-half ton piece of the wall. A symbol of freedom and democracy, this piece was permanently installed at MDC's Wolfson Campus, the only educational institution in the region to receive this honor.
Erected in 1961, the Berlin Wall divided East and West Germany as both a physical and symbolic boundary between democracy and totalitarianism during the Cold War. It stood for nearly three decades holding millions of people captive under communism. Its fall in 1989 was celebrated around the world. Remaining sections of the wall, which was approximately 100 miles long, have been placed throughout the world to mark the resilience of the human spirit and triumph over oppression.
In addition to the permanent installation of a section of the Berlin Wall, MDC also has an outdoor exhibition of photo collages depicting the Berlin Wall's 28-year history.
More Features Articles