---
Making Their Mark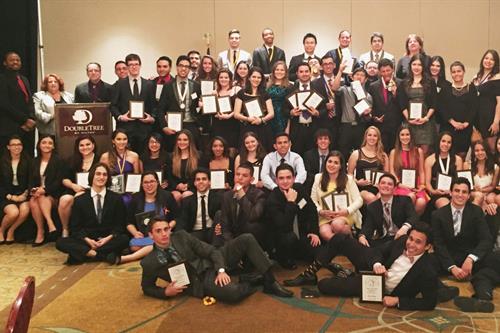 The Business of Winning
MDC students dominated at the recent Florida Phi Beta Lambda (PBL) competition, taking home two dozen first-place finishes and numerous other top awards from the State Leadership Conference.
Phi Beta Lambda is the premier collegiate business organization in the country. The Florida PBL competition draws students from colleges and universities around the state and tests their skills in business-related disciplines including Macroeconomics, Financial Analysis and Decision Making, Integrated Marketing, Forensic Accounting and Small Business Management, among other areas. Miami Dade College was strongly represented with students from Homestead, InterAmerican, Kendall, North and Wolfson campuses.
Winning Legacy
MDC's PBL chapter has earned recognition across the nation, including more than a hundred awards in state and national competitions. In addition, PBL embraces a spirit of community service, taking part in numerous fundraisers and charity events throughout the year.
Among the MDC winners were Kendall Campus students Alex Iglesias, Sophia Paradela and Alexy Menéndez, who placed first in Small Business Management for their innovative business plan for a day care center that caters to modern parents with unique services and conveniences.
"The key to our success was the many resources we were able to tap into at MDC to help refine and develop our concept," Iglesias said. "My teammates and I met for collaborative sessions at the Business Lab at Kendall Campus, and The Idea Center provided valuable guidance that helped our business plan stand out among all the others. As MDC students, we're very lucky to have access to these types of programs and such experienced faculty."
— AMS
More Making Their Mark Articles