---
Powerful Partnerships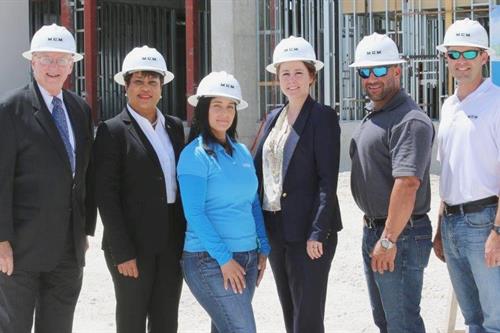 Collaboration Helps Students Build New Careers
When Glenda Secola wanted to change her career path after serving eight years in the U.S. Army's National Guard, she knew exactly where to head. She enrolled at Miami Dade College and entered the bachelor's program in supervision and management, taking classes at Homestead Campus.
Having graduated this spring, Secola is well along her way in her new profession thanks to a 10-week internship with Munilla Construction Management (MCM), which turned to MDC for a top student to help them when work began in August to build the new Homestead City Hall.
Secola, 32, is grateful for the problem-solving skills she developed at MDC that enabled her to make the transition from military life to the business world.
A Whole New Mindset
"In the military, we didn't have business-like language or ways of interacting," said Secola, who also works as a security supervisor at Turkey Point Nuclear Plant. "In the business world, you are allowed to be creative and bring forth your ideas. In the military, you do as you are told."
Secola said the transition has not been an easy one, but her professors at Miami Dade College have coached her, especially in the often-difficult task of dealing with the public.
Sarah Tuskey, chair of the School of Business at the Homestead Campus, said MCM executives approached MDC with the idea of the internship to give a promising student firsthand experience on a major construction project.
"Miami Dade College is always looking for new ways to develop these types of partnerships," Tuskey said. "This ongoing internship is tremendous for our students."
Trained to Handle Pressure
Secola was selected through a competitive process that included submitting a résumé, writing an essay and being interviewed by a panel of community leaders.
While the pressure in this type of environment is intense, Secola's life experiences had prepared her to step up to the challenge. The mother of two had served "365 days, boots on the ground" in Iraq.
"I want my boys to have big shoes to fill," Secola said. "I'm setting high expectations for them and showing them that it's never too late to begin a new career."
— WV
More Powerful Partnerships Articles