---
Powerful Partnerships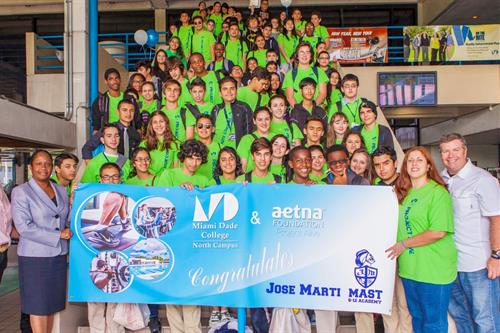 Working with Aetna for Healthier Living
MDC's North Campus was recently awarded a $40,000 grant by Aetna Foundation to promote good eating habits and active living.
The state-of-the-art North Campus Aquatic & Fitness Center administered the grant, which served a total of 496 Miami-Dade County Public Schools middle and high school students. Through a variety of workshops and exercises, the outreach efforts addressed various health issues, including obesity among adults and children, which is a significant driver of increased medical costs and undermines people's health as well as their financial well-being.
This one-year grant implemented through Project ALIVE and ALIVE-Mini programs taught adolescents ways to improve their health through regular exercise, nutrition education, encouragement of behavioral changes and support and reinforcement on how to live a healthy lifestyle.
Before and After
For its part, MDC's North Campus served 115 students during its eight-week ALIVE program, which included both pre- and post-program measures of height, weight, body mass index (BMI) and body fat percentage.
 In contrast to the eight-week program, the ALIVE-Mini program consisted of a series of shorter events that emphasized how small changes can make a big difference in people's lives. The shorter timeframe of these events attracted even more students, with an impressive 381 participating in fun activities such as learning how to calculate their caloric intake.
"These combined endeavors provided a wonderful opportunity to further educate our youth throughout the area on the essential elements of nutrition and well-being," said North Campus President Dr. Malou C. Harrison.
MCI Expertise
As an added benefit, students enjoyed a cooking demonstration by Chef Patrick McCurry from  MDC's renowned Miami Culinary Institute (MCI) and saw a demonstration on pool safety. Each also received a bag of fresh vegetables to encourage them to cook healthy foods with their families.
In addition to the health activities, students from José Martí MAST 6-12 Academy received a tour of North Campus' herb garden and Palmetum as well as another cooking demonstration by MCI Chef Ivan López.
Star power was present when students heard a special health message from former NFL fullback Lousaka Romon Polite. These participants, too, got a take home bag with fresh vegetables and goodies such as a fitness tracker, home herb garden kit and a pedometer to track their exercise levels.
More Powerful Partnerships Articles