---
Making Their Mark
Ooh La La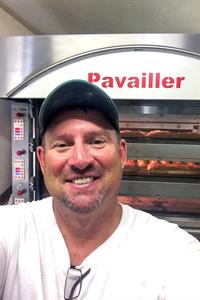 MDC alumnus Michael Palmer is excelling as a baker in France.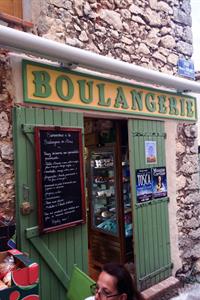 Palmer works at this quaint bakery.
There's a quaint bakery in a small, picturesque mountain village in the South of France, and, if you go there, the person making your to-die-for bread just might be a graduate of MDC's Miami Culinary Institute (MCI).
That baker is Michael Palmer, 55, who served for a quarter-century as a firefighter, worked a dozen years in medical-device and healthcare-education sales and earned an MBA from the University of Miami.
"He's a life-long learner and a Renaissance man," said Chef Collen Engle, chair of MCI. "He's taking advantage of his many interests."
Palmer is working as an apprentice at a bakery called Boulangerie de Mons, located in the Provence Mountains – average elevation in the village is 814 meters or 0.505 miles.
He also has a possible opportunity to attend bread and pastry school for one year in France, starting in September 2016.
"Mike was an outstanding student from the moment he arrived at MCI," Engle said of Palmer, who has traveled to Paris and Italian cities such as Venice, Milan and Florence as he pursues his newfound career.
"His natural curiosity and drive to learn set him apart from other students. He's someone I knew was going to end up doing amazing things with his culinary skills."
Engle pushed Palmer in new culinary directions by discussing potential professions and asking him to research  topics that were unfamiliar to him.
"Mike helped advance his career interests at the MCI through his willingness to pitch in, volunteering to share his skills in areas such as cheese-making and working in the purchasing department," Engle said.
Palmer said he plans to return to MDC soon so he can study French to further his success abroad.
In the meantime, he's a bit of an oddity.
"I have been welcomed into the Mons community and have come to know the local population and their culture," Palmer said. "A standing joke is that they have an American baking their bread!"
— WV
More Making Their Mark Articles