---
Making Their Mark
An Inspiration to Others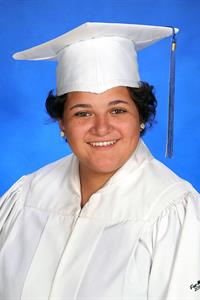 Angela Ortiz is now at Harvard on a full scholarship after graduating this spring from the award-winning SAS high-school at MDC with straight A's and also earning an associate's degree through MDC's dual-enrollment program.
Angela Ortiz, a graduate of School for Advanced Studies (SAS) at MDC, is just 18, but she's already at Harvard on a full scholarship after surviving lymphoma and writing a self-help booklet called A Brief Guide to Adolescent Cancer Written by an Adolescent Cancer Patient – Also Known as an Attempt to Get You to Laugh as You Sit Around Bored and Balding.
"Teenagers are this weird group because we're not kids, but we're not adults, either," Ortiz said. "I thought: 'I'm a teenager. I could probably help.' "
Ortiz's humor helped her navigate an ordeal that began at age 16 when after months of health issues, she learned she had Hodgkin's lymphoma.
While doctors advised her to stay out of school during treatment, she did the opposite, scheduling chemo on Fridays and recovering on weekends.
"I was tired all the time," she said, but she was back at SAS each Monday.
This past spring, she graduated from high school with straight A's and earned an associate degree through MDC's dual-enrollment program. She also got a perfect score on her SAT reading test and AP literature exam. 
Ortiz, who plans to study neurobiology, applied to seven universities and got accepted to every one of them, including Brown and Harvard, which offered her a full scholarship.
Now at that Ivy League institution, she's sharing her lifesaving outlook through her booklet, which is being distributed in hospitals nationwide.
"Writing is something I've always liked," Ortiz said. "I hope this helps others going through the same thing."
— WV
More Making Their Mark Articles