---
Powerful Partnerships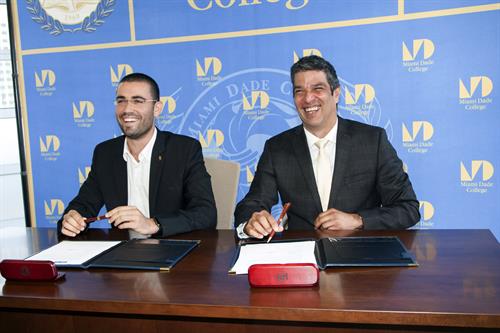 Entrepreneurship Powerhouses Unite
Continuing the College's long history as a truly global institution, MDC recently signed an agreement with Israel's Tel Aviv University to help enhance Miami's entrepreneurship ecosystem.
The partnership between Tel Aviv University's Entrepreneurship Center (StarTau) and The Idea Center at MDC links Israel's high-tech and start-up communities to resources and people in Miami. Both StarTau and The Idea Center serve aspiring entrepreneurs, providing the practical and professional guidance needed by start-ups and early phase business ventures.
The agreement initially centers around three initiatives that are focused on knowledge-sharing:
Members of Israel's high-tech community will travel to Miami for an Innovation Nation conference that connects innovators and leaders of the two high-tech communities
Israeli start-ups will meet Miami investors, designers and digital marketing firms through a series of programs arranged by The Idea Center
Tel Aviv University faculty will serve as visiting professors at MDC.
More Powerful Partnerships Articles