---
Academics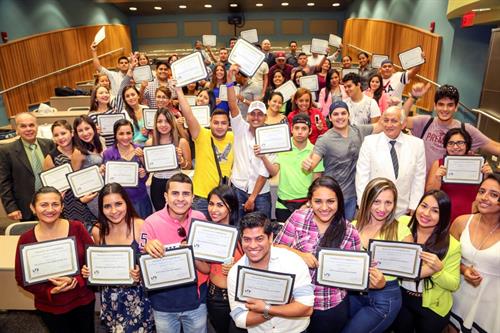 Ecuador Turns to MDC for Business Expertise
With the School of Business offering Bachelor of Applied Science degrees in Supply Chain Management as well as Supervision and Management, students continue beating a path to MDC's doors to capitalize on the expertise of the College's faculty.
This fall, MDC hosted a delegation of students and professors from the Universidad Tecnológica Equinoccial (UTE) in Santo Domingo, Ecuador. They came for a three-day intensive training session on business operations.
"Given the future construction of a dry port in Santo Domingo, Ecuador, and the growing interest in reducing the environmental impacts of businesses, we crafted the material and presentations around that specific need," said Dr. Ana M. Cruz, chair of the School of Business at Wolfson Campus. The curriculum was designed in concert with requests from the UTE participants.
The 45 students and six professors from UTE attended presentations that covered business planning, greening businesses, supply chain management, logistics and financial analysis. Since the seminar had a transportation focus, the business visit took place at the Miami International Airport, and included a tour of airport operations.
What began as once-a-year visits from Ecuadoran professors to MDC's School of Business are now increasing in scope and frequency. In May, MDC will welcome a group from Quito.
"These collaborations are important for Miami Dade College," Cruz said. "They provide educational opportunities to students and academics from other nations and allow us to share our knowledge and skills. In addition, these outreach endeavors also showcase the excellence at MDC, and many times students wish to come here to study with us once they learn what we have to offer."
More Academics Articles