---
Academics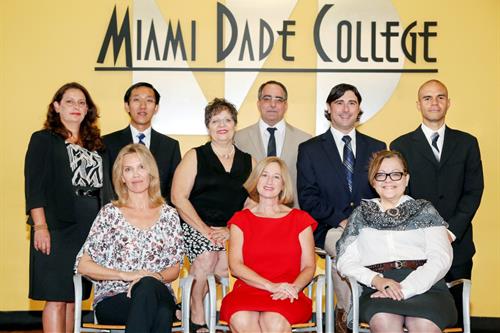 Excelling in All Realms
Each year Miami Dade College honors its most outstanding faculty members with Endowed Teaching Chairs. This year, nine distinguished professors were selected to receive this prestigious, highly competitive, three-year award.
The College's Endowed Teaching Chairs are generously funded by donors through the ongoing work of the MDC Foundation. The honorees were selected by a committee of their peers, who reviewed evidence of student retention and success, effective teaching strategies, professional growth and a commitment to making student learning a top priority in their work. To date, more than 300 recipients have been inducted into the program since its inception in 1992.
Sandra M. Castillo, Gordon Foster and Thelma Peters Endowed Teaching Chair
Professor Castillo, who came to South Florida from Cuba in 1970, writes about exile and memory in a poignant style. A relentlessly pioneering educator, Castillo has received several grants from the National Endowment for the Humanities, which have led directly to innovative courses for students at Miami Dade College.
Susan Epstein Garcia, Mary Pond, Family and Friends Endowed Teaching Chair in Memory of Karl S.E. Pond
Professor Epstein is a composer who brings both fearlessness and freshness to her music. From bracing orchestral pieces like Danza (1999) to the recent I'm Sitting in Another Room, for a laptop orchestra, her work infuses the classical tradition with contemporary verve.
Hien Nguyen, Peter Masiko, Jr./Miami Jai-Alai Endowed Teaching Chair
Professor Nguyen has taught in the Department of Technology at the School of Engineering + Technology (EnTec) since 2007. His research pushes the boundaries of computer science in mobile learning. He is recognized for his innovative learning platform IntelliMath.
José Alejandro Orta, Peter Masiko, Jr. Endowed Teaching Chair
Professor Orta is a physicist with a personal odyssey. After being expelled for political reasons from the university in his native Cuba, he emigrated to Costa Rica and finally to the United States. On the faculty of Miami Dade College since 2001, Orta researches solar and plasma physics, and has appeared on CBS, Telemundo, Galavisión and CNN-Spanish to discuss astronomical topics in the news.
Anouchka Rachelson, Dr. Eduardo Padrón Endowed Teaching Chair
A native of Berlin, Professor Rachelson combines her love of language with her passion for the environment in her teaching of English for Academic Purposes. She often incorporates sustainability issues in her curricula so that her teaching develops language skills and bridges cultural differences while stimulating environmental awareness.
Marina Rodriguez, Simon Bolivar Endowed Teaching Chair
An alumna of MDC and now an English professor, Rodríguez is an expert in language arts, reading and ESOL curricula. She has led many MDC Learning Outcomes initiatives, with particular focus on outcomes assessments and co-curricular events.
Alex Salinas, The Gerrits Construction Company Endowed Teaching Chair
Professor Salinas teaches with a unique personal style that inspires students and builds bridges across societal divides. He has worked with numerous service learning projects and is the co-founder of Tengo Un Sueño (TUS), a multiyear project that will help provide a complete education to 30 Nicaraguan children.
Lisa Shaw, The Bonnie McCabe Endowed Teaching Chair in  Humanities
Professor Shaw, a member of the MDC faculty since 1993, brings an expansive scope to her teaching and writing. Professor, grief counselor, oral historian and writer on spirituality, Shaw has diverse talents that are a reflection of her dedication to educating the whole student. She has won many grants and awards for her work, and she regularly presents her research at major conferences.
Adam Vellone, Murray Sisselman & Peter H. Clayton Endowed Teaching Chair
Professor Vellone goes back to the dawn of Western literature for his inspiration as a teacher, citing Homer and his example of the mentor. Now an associate professor in public speaking at the Homestead Campus, Vellone engages students by making clear the purpose of what is being taught and how it will apply to their lives.
More Academics Articles