---
Cultural Spotlight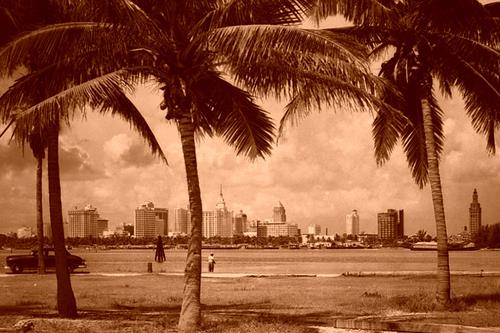 A Blast From the Past
Audience members young and old enjoyed taking a trip down memory lane at the recent screening of Once There Was A Place … .Drawing on film and video clips from the acclaimed Lynn and Louis Wolfson II Florida Moving Image Archives at MDC, history consultant Sylvia Gurinsky provided an informal tour through South Florida's past at the Miami Center for Architecture & Design earlier this fall in a free, fun-filled event open to the public.
"Places change so quickly in South Florida," Gurinsky said. "It's a reward for an individual, TV station or company to capture them on film or video – and a gift to future generations who can see them, thanks to the Wolfson Archives."
Among the sights recovered by Gurinsky's research is Brickell Mansion, the home of William and Mary Brickell captured in never-before-seen footage taken shortly before the building was demolished in the early '60s.
Also playing a starring role are Miami hotels that defined the Magic City's boomtown skyline, including the Columbus, the Everglades, the MiMo classic Diplomat Hotel designed by Norman Giller and Morris Lapidus' Fontainebleau, shown under construction on the beachfront site of Harvey Firestone's mansion.
"The original Diplomat Hotel and Sunny Isles' Motel Row show the imagination of Miami Modern-era architects," Gurinsky said. "Our look at buildings of the past extends to the recently departed One Herald Plaza, one of the most contemporary buildings when it opened in 1963."
Other picturesque images include Miami's beloved Orange Bowl, the Miami Beach Kennel Club and glimpses of neighborhoods ranging from Overtown to Sunny Isles.
Once There Was A Place … was presented with the support of the Miami-Dade County Department of Cultural Affairs and the Cultural Affairs Council, the Miami-Dade County Mayor and Board of County Commissioners.
For more, see the video at tinyurl.com/WolfsonArch.
More Cultural Spotlight Articles