---
Features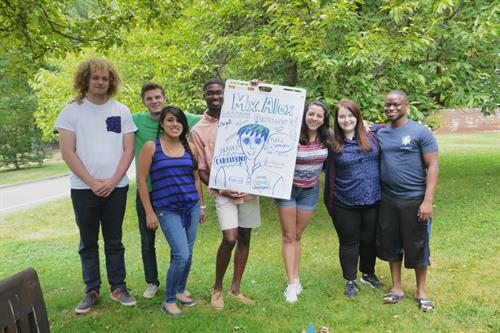 Getting Out The Vote
As early as the seventh grade, Maydee Martínez already had developed a sense of her political leanings, leading to animated discussions with her father who had drastically opposing views. She's now an Honors College student at MDC studying political science and sociology, and her longstanding passion for political engagement is as strong as ever.
Martínez and three other students at Miami Dade College were recently selected to participate in the Vote Everywhere initiative of the Andrew Goodman Foundation, a nonpartisan organization that promotes civic engagement. A civil rights activist, Goodman and two colleagues were murdered by members of the Ku Klux Klan in 1964 while working to register black voters in Mississippi.
Besides Martínez at Wolfson Campus, the new MDC student ambassadors include Samuel DeRosier, also at Wolfson, and Ariel McKenzie and Michelle Rodríguez at North Campus. They will work yearlong to register voters and organize other activities to encourage participation in the political process at every level.
"Before entering MDC, I had little concern for politics, and I believed my vote didn't matter," McKenzie said. "Now I realize what a difference my vote and my voice can make."
Campus Champions Harold Silva at North Campus and Tamica Ramos at Wolfson work with the Institute for Civic Engagement and Democracy at MDC and with faculty who help coordinate efforts between the foundation and the students. "They are our boots on the ground," said Sylvia Golbin-Goodman, executive director of the Andrew Goodman Foundation.
As part of the program, Martínez and DeRosier traveled to New Jersey, where they participated in leadership training with peers from across the nation and got to meet and speak with civil rights legend Clarence Jones, who was Dr. Martin Luther King's lawyer and speechwriter.
Jonian Rafti, the foundation's Vote Everywhere coordinator for MDC, has been deeply impressed with the students' work. "The four MDC ambassadors took the lead in organizing the College's National Voter Registration Day efforts, helping register over 300 students in a single day across several campuses."
More Features Articles