---
Features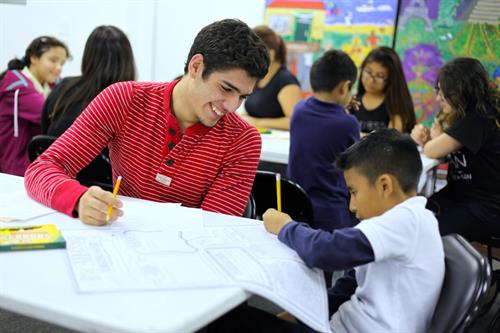 A Bright Spot in Life
Earlier this fall, the White House Initiative on Educational Excellence for Hispanics recognized the exceptional work done at MDC in its Bright Spots in Hispanic Education national online catalog. In particular, Homestead Campus professors Yanely Cordero and Jessyca Pérez were applauded for their work on Pages for All Ages, a project in which MDC students help young children ages 5 to 13 develop into authors by working with them in the creation of their own children's books.
"The program is great because everyone wins – our students, the community and the children," Cordero said. "For MDC's developmental reading students, they're not only being given a chance at college, but also an opportunity for serving in mentoring roles, which is empowering."
Pérez added, "It's great because the kids don't feel like they are alone in this creative process. They look up to the MDC students."
The Initiative, established in 1990, seeks to leverage these Bright Spots to encourage collaboration between stakeholders focused on similar issues in sharing data-driven approaches, promising practices, peer advice and effective partnerships, ultimately resulting in increased support for the educational attainment of the Hispanic community, from cradle to career.
More Features Articles