---
Features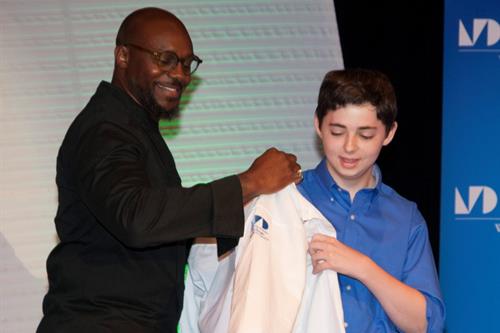 Recipe for Happiness
The Miami Culinary Institute (MCI) at MDC played an important part in helping the Kids Wish Network fulfill the wish of a North Carolina teen who has been battling Crohn's disease for nearly a decade.
Eighteen-year-old Seth Munday traveled to Miami Dade College in September thinking he was going to shadow a chef and attend MCI's chef coat ceremony, where incoming culinary students are given white chef's coats as they embark on their studies. Instead, he was given the opportunity to meet his culinary idol, Chef Richard Ingraham, who is the personal chef of basketball star Dwyane Wade and has also appeared on the Food Network show Chopped.
Munday became an aspiring chef and devoted Ingraham admirer after spending hours watching the Food Network during a two-month hospitalization for his condition.
Ingraham, who is a member of MCI's culinary advisory board, surprised Munday by calling him to the stage and presenting him with his own chef's coat.
Munday's wish came true with the help of MCI student Lizette Linares, who simply wanted an opportunity to do something kind for someone else.
— AMS
More Features Articles