---
Features
Seasoned MDC Reporters Spread Wings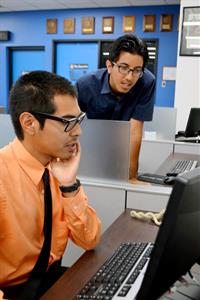 MDC students Brayan Vázquez, left, and Tomás Monzón were among just 12 students selected nationwide to write for The Latino Reporter Digital.
MDC journalism students Tomás Monzón and Brayan Vázquez began the fall semester with an exciting weeklong work experience as part of the National Association of Hispanic Journalists (NAHJ) 2015 Student Project.
The enterprising journalists, who work on the College's award-winning newspaper The Reporter, were among an elite group of 12 students chosen from across the nation to report for The Latino Reporter Digital, which covered all the events at NAHJ's Excellence in Journalism conference in Orlando. Working on the convention website, they created a digital newspaper, a television newscast, radio programs and media packages.
"It was truly a privilege to be part of this year's NAHJ Student Project," said Vázquez, a 20-year-old who has worked on MDC's newspaper for a year writing columns and news stories while also taking news photos.
"I learned directly from professional journalists, allowing me to work on areas that were still foreign to me," he said.
Vázquez, who came to the U.S. from Mexico when he was 11 years old, is studying computer science at North Campus. He aims to focus future journalism work on social issues that affect people of color, such as the school-to-prison pipeline and the implementation of private correctional facilities that house undocumented immigrants in the U.S. and worldwide.
Tomás Monzón, 21, worked with Teenlink South Florida when he was in high school, writing movie reviews for their print and online publications. He previously attended two workshops funded by the Dow Jones Newspaper Fund. He graduated from MDC's Honors College in May and is now working on a bachelor's degree in computer information systems.
"Through The Reporter, I learned and practiced editing, writing, interviewing and researching while combining different sources of information," he said. "These abilities will become invaluable assets in my future career as a journalist."
Monzón built an impressive and varied portfolio at The Reporter. He served as the paper's forum editor and senior news writer. In addition, he produced multimedia stories.
Originally from Argentina, Monzón came with his family to the United States in 2001. He aspires to work as a multimedia journalist for TIME or Newsweek as well as a computer systems technician for a government agency or private business.
For more on the award-winning work of The Reporter, see the video at tinyurl.com/Reporter5.
More Features Articles