---
Making Their Mark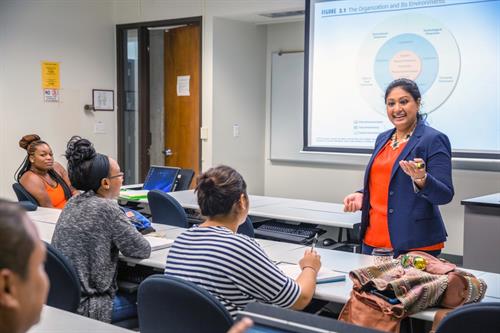 Award-Winning Approach to Teaching
MDC student Ardalan Rahimi recently racked up honors at the national conference of the Future Business Leaders of America – Phi Beta Lambda (FBLA-PBL), where he captured one second- and two first-place awards. He attributes his success to training he got at MDC, and in particular to the lessons learned from Dr. Rahnuma Ahsan at the School of Business.
"Dr. Ahsan is a shining example of a teacher for the modern age," said Rahimi, who now is working on an exciting internship in the marketing department of Warner Music. "She lets students know when opportunities come up that are relevant to them."
For her teaching expertise, Ahsan recently received two awards: Business Educator of the Year, from the Greater Kendall Business Association, and the 2015 Impact Award for Excellence in Teaching Entrepreneurship, from the National Association of Community College Entrepreneurship. In addition, Ahsan recently received the 2015 Minority Business Case Development Grant from the University of Washington, and she was the first lead faculty member in the Goldman Sachs 10,000 Small Businesses program, where she played a crucial role in the implementation of the program and curriculum.
Rahimi knows exactly how his professor came about these honors. "She spends extra time preparing students for club events and competitions," he said. "And she does it all with tremendous patience and a sincerity that comes from being dedicated to the success of her students."
A native of Bangladesh, Ahsan firmly believes that her role at MDC is to empower her students.
"I see tremendous potential in them," Ahsan said.
— WV
More Making Their Mark Articles