---
Making Their Mark
Putting It in The Bank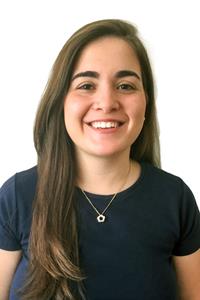 After her paid internship at Deloitte, MDC Honors College alumna Sophia Fleites is now studying accounting at Georgetown University.
MDC Honors College alumna Sophia Fleites, who is now studying accounting at Georgetown University, has had a love of business since the fourth grade.
That's when she started selling designer pencils to classmates, quickly making a profit by offering her merchandise at a 25-cent discount each, compared to bookstore prices.
"My family has this business sense in our blood," said Fleites, whose mother has an MBA in finance.
This talent enabled Fleites to excel at MDC, where she served as Kendall Campus' president of Phi Beta Lambda (PBL), which in turn led her to a prestigious paid internship with Deloitte, the world's largest professional services network in terms of revenue. The high-octane firm provides tax, auditing, financial advisory and other services in more than 150 countries.
"When I graduate, I want to work for Deloitte," said Fleites, who plans to get a master's degree in accounting, then become a Certified Public Accountant. "I want to work with international clients, mainly from Latin America."
That Fleites was chosen for the coveted Deloitte internship is yet another sign of the power of MDC's accounting program, which regularly catches the eye of international firms seeking top performers to participate in highly competitive internships.
Indeed, Fleites credits Miami Dade College for much of her success.
"They have so many resources for students," she said. "I could have simply taken classes and gone home. But you just have to push yourself. You have to seize the opportunities at MDC."
And this successful young entrepreneur did just that.
— WV
More Making Their Mark Articles