---
Making Their Mark
Reforming the World Through Film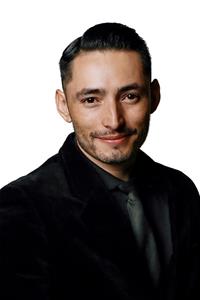 Student Carlos Andrés Cuervo won the Grand Prize in the Faith Counts film competion.
MDC student Carlos Andrés Cuervo and his film Without Walls were recognized as the Grand Prize winner in the Faith Counts film competition. Cuervo was flown to Philadelphia to accept the honor and receive the $20,000 cash prize that came with the award.
Without Walls earned 4,000 votes in an online competition that coincided with the official film competition, making it the audience favorite as well as the Grand Prize winner. The film focuses on the work of Reforma XXI, a small group assisting members of the Miami community who are in the most need. The two-minute video was selected from more than  100 submissions.
Cuervo is excited and proud to be recognized by Faith Counts and has used the experience to look forward to his future filmmaking endeavors at MDC's School of Entertainment & Design Technology (SEDT).
He noted, "as an MDC filmmaking student, this is a great incentive to continue working on projects that can tell compelling stories. I believe that when it comes to telling the untold stories of people doing something to make a difference, there is no story too small to tell, no story too big to touch one heart and change the world for good."
Through its associate and bachelor's degrees, SEDT offers students extensive hands-on experience in conceptualizing, producing, filming, editing and showcasing short films.
To view Cuervo's winning film, go to tinyurl.com/CuervoFilm. For more about the SEDT's film, TV and digital production programs, contact Matthew Wohl at mwohl@mdc.edu or 305-237-1696.
More Making Their Mark Articles