---
Powerful Partnerships
The View From Within Supply Chain Management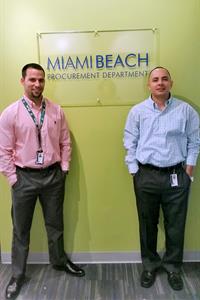 MDC School of Business students Alian González, left, and Nestor Abarca are interning in the City of Miami Beach's Procurement Division.
For Nestor Abarca and Alian González, lessons learned at MDC's School of Business are coming to life since they were selected for an internship with the City of Miami Beach's Procurement Division.
The internships – which could  lead to full-time jobs – have been made possible thanks to a partnership between Miami Dade College and the National Institute of Governmental Purchasing.
"MDC gave us the skills to succeed," said Abarca, a 30-year-old native of Nicaragua who is working on a Bachelor of Applied Science (BAS) in Supply Chain Management (SCM). "At MDC, we learned the concepts of supply chain management, from case studies presented by excellent professors through assigned projects.
"With the internship, it's an amazing opportunity to put theory into practice, applying the knowledge we learned at MDC. This internship gives us a chance to apply hands-on management."
González, a 27-year-old from Cuba, is also enrolled in MDC's BAS in Supply Chain Management program and sees a great future in this field because of the training and information he has received.
"MDC brought supply chain management professionals to speak with us various times to give us an inside look at how they contribute to their organizations," González said. "From one of those seminars, I became interested in procurement."
González said his ultimate goal is to become a contracting officer with the City of Miami Beach.
"The field of supply chain management involves the entire process of transforming raw materials into finished products, right to the hands of consumers," González said. "I believe that tomorrow's leaders will need a deeper understanding of SCM since the world is so connected and businesses now are global."
Abarca, who wants to work in logistics or procurement, said he, too, was amazed at the scope and importance of his major.
"The success of any company depends on how efficiently they run their supply chain management," Abarca said. "This is a growing industry. Right now is the time for development and growth in this field."
— WV
More Powerful Partnerships Articles