---
Academics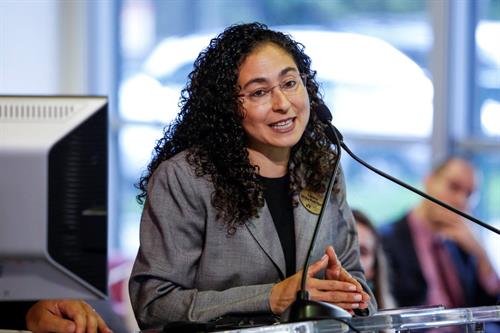 A Clear Vision to Great Jobs
For anyone seeking to find lucrative employment in an industry that needs skilled workers, look no further than MDC's Medical Campus and the only vision care opticianry school in Miami-Dade County.
MDC Opticianry Professor Liliana Mejía Rodríguez said there is such a demand for the program's graduates that nearly 100 percent of them find jobs in their field.
"A lot of people don't know that this industry exists," said Mejía Rodríguez, who graduated from MDC in 1996. "Some people don't know we are a licensed profession – they think we are sales people. But the fact is that the state of Florida requires that there is at least one licensed optician on the premises at all times in order to remain open."
Graduating from the MDC program requires five semesters of study, which takes about 18 to 20 months. For students who prefer to go to school part time, MDC also has an eight-semester program that can be completed in two-and-a-half years.
The program includes internships that provide students with hands-on experience with real patients and doctors. Providing additional learning opportunities, MDC's Medical Campus has a full vision-care clinic on site, staffed by students, a licensed optician and an optometrist. That clinic is just one of five at Medical Campus. The others focus on dental hygiene, veterinary medicine, massage therapy, and health and wellness.
Opticianry graduates who find work in South Florida can expect to make between $18 and $29 per hour, and some vision-care sites also pay additional incentives.
One of the reasons that graduates of the opticianry program at MDC get placed in jobs so consistently is that Mejía Rodríguez, fellow professor Joe Simmons and the rest of the MDC staff have numerous contacts throughout the industry.
"Every time I go shopping and I see a vision care facility, I tell them about our program, and I exchange business cards," she said. "I already know a lot of them. Most of them are MDC alumni."
For more on MDC's clinics, see tinyurl.com/MDCclinics.
— WV
More Academics Articles