---
Academics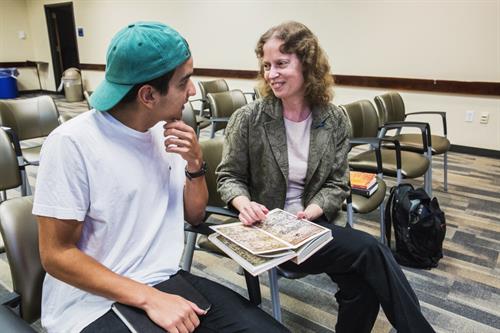 Delving Into Mayan Culture
Working with the Institute of Maya Studies (IMS), MDC's Kendall Campus hosts bimonthly seminars to help promote knowledge of pre-Columbian cultures of the Americas. While this might seem like ancient history to some students at MDC, the need for those who understand Mayan culture and are familiar with the more than 20 different Mayan languages spoken in Central and South America grows each year, spurring a growing demand for translators, historians and social workers with expertise in this field.
In its most recent collaborative effort with IMS, MDC offered a lecture on the mythology surrounding Venus' appearances and disappearances from the sky and the role that the Morning and Evening Stars played in Maya divinatory and astronomical texts. Led by Dr. Gabrielle Vail, from New College's Maya Codices Database Project, the insightful program focused specifically on deities of the hunt and explored Zuni narratives of creation.
In addition to lectures, the IMS/MDC partnership offers annual travel scholarships for students to participate in Mesoamerican activities. A Mayan fellow also is chosen from MDC faculty every two years.
For more about the Institute of Maya Studies,
membership and fellowship opportunities, please visit instituteofmayastudies.org or contact Dr. Lourdes Rassi at lrassi@mdc.edu.
More Academics Articles