---
Academics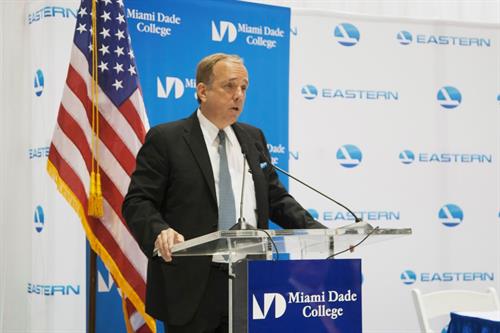 Helping Students Reach Greater Heights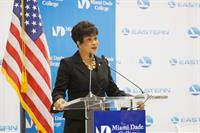 Homestead Campus President Dr. Jeanne F. Jacobs spoke at the signing ceremony celebrating the new partnership between MDC and Eastern Air Lines.
An iconic symbol of aviation in Miami-Dade County has partnered with MDC to help create a workforce pipeline for the local aviation industry.
The MDC/Eastern Air Lines Academy will offer specialized courses and customized certifications through the College's acclaimed Eig-Watson School of Aviation. Students will be trained for positions as pilots, airline dispatchers, avionics technicians and in other areas of airline operations, including airline maintenance procedure and records. They also will have access to scholarships, paid internships and job placement opportunities.
Plans Take Flight
As Eastern Air Lines was prepared to re-launch the company in 2014 after a nearly 25-year hiatus, it "made a very conscious decision that we would partner with the very best in each area," said CEO Edward Wegel during the MDC partnership signing agreement. When it comes to developing talent, "we believe we've found the perfect partner with MDC."
When Eastern – once the largest private employer in the Miami area – went out of business in 1991, many of its employees turned to MDC for education and training to help them get back into the workforce. That relationship has now come full circle with this latest partnership that will provide significant opportunities to students and also help Eastern Air Lines as it works to reestablish itself, helping to grow the local economy in the process.
"We know we've crafted an agreement that will meet the immediate workforce needs in aviation and stimulate the economic development of this community," said Dr. Jeanne F. Jacobs, president of MDC's Homestead Campus, where the School of Aviation is based.
Preparing to Soar
Students who attended the signing ceremony expressed excitement about the new doors opened to them through this agreement with Eastern Air Lines.
"Having these types of opportunities for students helps us attain the kind of career success that we entered MDC seeking," said Mason Mariela, who is completing coursework in aviation administration and hopes to soon enter the professional pilot technology program. Mariela, who has been flying since high school and is a member of MDC's Flight Team, said many students will benefit from these additional areas of study and close association with a growing major airline company.
— AMS
More Academics Articles