---
Features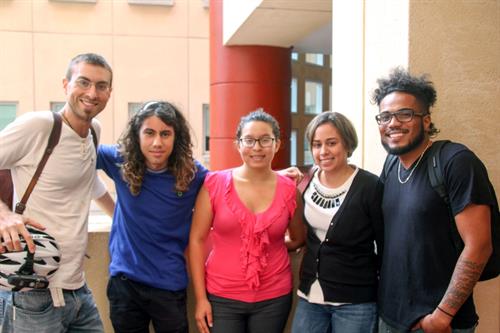 Fly Like an Eagle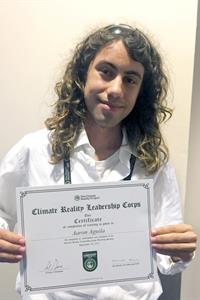 At MDC's resiliency conference, Aguila shared lessons he had learned earlier in the fall when he participated in Al Gore's Climate Reality Leadership Summit held in Miami.
For MDC student Aaron Aguila, it all started with a love for animals and a curiosity about the ecosystems in which they live.
That scientific wonder led him on a mission to protect the environment, which most recently motivated him to represent Miami Dade College at The Climate Reality Leadership Summit held in Miami. Led by former U.S. Vice President Al Gore, the summit taught participants the latest discoveries in the field along with communication techniques vital to diffusing that information.
"The summit and meeting Al Gore motivated me to take action," said 20-year-old Aguila, who shared what he learned at MDC's resiliency conference (see story on Page 11). Aguila plans to major in wildlife ecology and conservation at the University of Florida after graduating from MDC.
Sharing Lessons
Born and raised in Miami, Aguila already has been doing quite a lot. For starters, he recently traveled with fellow MDC students to Tennessee, where they were immersed in nature at the Narrow Ridge Earth Literacy Center, thanks to a partnership with MDC's Earth Ethics Institute. The students talked about water conservation, lifestyle changes that would lower society's consumption and alternative technology.
When he returned to Miami, Aguila – whose name, fittingly, means "eagle" in Spanish – made an unusual decision about his studies. Instead of focusing on one MDC home base, he is rotating classes among several locations so that he can regularly connect with his Narrow Ridge friends at Kendall, InterAmerican and North campuses.
"At Narrow Ridge, we actually lived sustainably, from planting seeds providing food for the next incoming group of students to using composting toilets," Aguila said. "Inspired by this lifestyle, one of our goals was to bring some sort of change to Miami Dade College."
Multiple Initiatives
At Wolfson Campus, the group's goal is to reduce the College's use of fossil fuels. At Kendall Campus, their first project will be installing a composting toilet at the Environmental Center. At the state level, the team is lobbying for more solar power.
"Only one percent of Florida's energy comes from the sun," Aguila said. "Given that we are the Sunshine State, that's pretty ironic. We're going to change that."
— WV
More Features Articles