---
Features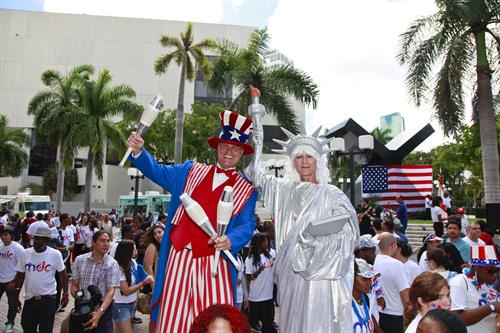 MDC to Host Presidential Debate
Miami Dade College will host a national democratic presidential candidates' debate on March 9 at Kendall Campus in partnership with Univision Network and The Washington Post.
MDC has a long history of hosting U.S. presidents, prominent candidates, high-ranking elected officials, members of Cabinet and heads of state. In the fall, the College hosted Vice President Joe Biden and His Majesty King Felipe VI of Spain at major events with students. Earlier last year, in unprecedented fashion, MDC hosted presidential campaign announcements for Republican candidates U.S. Sen. Marco Rubio and former Florida Gov. Jeb Bush. In the last presidential election, MDC teamed with Univision Network to co-host candidate forums with Gov. Mitt Romney and former House Speaker Newt Gingrich.
Long a locus of national attention, MDC has hosted President Barack Obama, President George W. Bush, President Bill Clinton, former U.S. House Speaker Nancy Pelosi, President George H. W. Bush, President Jimmy Carter, President Gerald Ford, Sen. Bob Graham, Sen.Gary Hart, Vice President Al Gore, Vice President Dick Cheney, Ralph Nader, Sen. John McCain, Sen. Lindsey Graham and Sen. Rick Santorum, to name a few. Many first ladies have also visited MDC, including Michelle Obama, Barbara Bush and Laura Bush. MDC has also been a stop for  world leaders including Mikhail Gorbachev, Yegor Gaidar, Lech Walesa, José María Aznar, Leonel Fernández, Andrés Pastrana, Alvaro Uribe, Alejandro Toledo, Jorge Quiroga and many others.
More Features Articles